Making DeFi Smooth and Accessible!
We sat down with Velvet.Capital to discuss their visionary DeFi Asset Management protocol that's making waves in Web3. Their project aims to simplify the often complex world of DeFi to spur mass adoption - while still offering powerful tools for advanced users. Check out this video and read ahead to learn more!
Please describe Velvet.Capital to those unfamiliar with it. What's your vision and mission?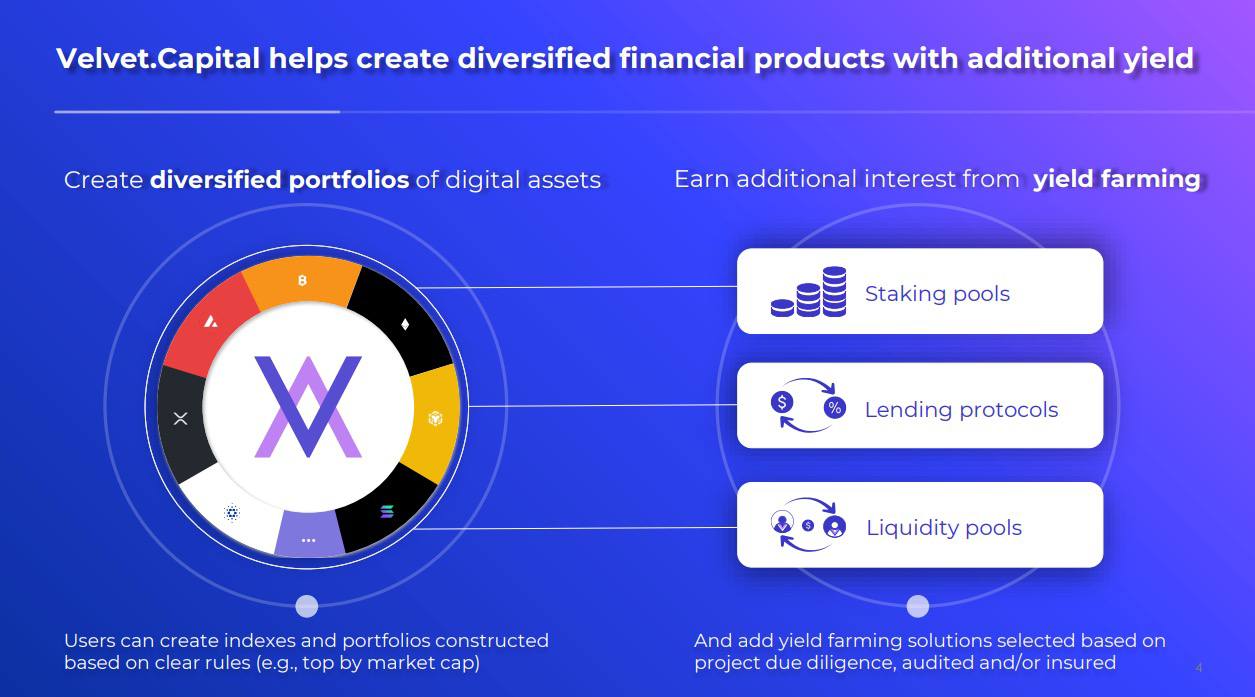 Velvet.Capital is committed to bringing DeFi to the masses with a Cross-Chain DeFi Asset Management protocol that helps people & institutions create DeFi products such as tokenized crypto portfolios, structured products, indexes and other financial instruments incorporating modern portfolio theory and highly vetted yield farming to deliver additional yield potential – all in just a few clicks.
Individuals can access a Web3 native app for direct deposit and withdrawal and third party platforms & institutions can use Velvet.Capital's SDK/API to create their own financial products, leveraging their DeFi-as-a-Service model. We will help to bring the next billion users onto the blockchain and become the #1 digital asset manager of the future.
We just added a ton of great features you should all check out! We just integrated with Magic Link and Transak so now users can instantly create a web3 wallet and fund their portfolios in the most efficient way possible! We also just unveiled a UI update with charts and portfolio performance tracking. Not to mention, we also unveiled our Community Marketplace where influencers, KOL's and other crypto Gigabrains can come share their best strategies and portfolios with the world! That's right - you can invest alongside the best and brightest in crypto! More cool stuff is to come. Join us and let's build! :)
Demo:
When was the idea behind Velvet.Capital born, and what led to it?
We believe in the future where DeFi transforms the financial system & empowers people to become financially independent!
But DeFi is hard! Users are intimidated by countless options, confused by the complexity of protocols and struggling to navigate solutions built for crypto-natives. As a result, people chase the highest yield and get burnt when the token price tanks to zero.
We're building Velvet.Capital to make DeFi simpler & safer by helping you diversify across assets, ecosystems and yield farming solutions. We've launched digital products both in traditional finance & Web3 and we want to leverage our experience to onboard the next billion users into DeFi.
Tell us about your team's background.
We have a diverse team of A-Players across Tech, Finance, Business, UI/UX and Marketing with extensive experience launching digital products & ventures. We all believe in the DeFi future and want to do our part in making it a reality. Some highlights:
Business & Finance Team: A former Venture Builder incubating Blockchain & Crypto startups at LongHash Ventures, Project Leader at BCG New York launching digital ventures (a WealthTech start-up, a SaaS for financial advisors, Digital Banking, etc.), mentor at several prominent accelerators, CFA, Investment Director & Chief of Staff at a Wealthtech startup with extensive banking experience.
Tech Team: The first individual grantee at Ethereum Foundation - helped design Solidity, 30x+ hackathon winner, Full-stack Engineer focused on Open Finance with experience from Red Hat, Ocean Protocol, and Pandora Protocol, Founder in residence at Entrepreneur First, Founder of Bangalore Chapter for Hyperledger, B.Sc. Information Systems and Mentor at Technical University of Munich (TUM), Cryptography Researcher with experience from Nonceblox, Linux Foundation, cointopper.com, and 20+ other blockchain companies.
Growth Team: Deep experience across both web2 & web3 marketing - from Manufacturing & Industrials to Finance, DeFi and more - with a specialty in consultative and technical sales, writing, blogging, storytelling, consumer psychology, community development and project consulting.
What are the main advantages of Velvet.Capital for the user, compared to a similar project from a mainstream financial market?
One of the big advantages Velvet.Capital has is that DeFi competition is actually good for us!
The more protocols are out there, the more options for additional yield or liquidity our users will have - as we'll be optimizing across all of them!
Our secret sauce is in our flexible architecture and constant innovation, which allows us to add new products and integrations 2x faster than anyone else. We also offer DeFi-as-a-service to b2b clients which no one else is really doing.
Finally, we are the first Cross-chain Asset Management protocol, which will allow you to get the best yield on your portfolio not only on one chain, but throughout multiple ecosystems!
What is the Security Strategy of your project?
We've gone through 2 security audits: by Peckshield (a top security firm recommended by the BNB Chain team) and Shellboxes (partners of Chainsulting), which validated our security measures.
Our architecture is built completely on-chain, and the contracts are non-upgradable, no one can freeze or withdraw funds as it's impossible by design.
In the future, we're planning to add additional measures such as voluntary insurance and a separate Velvet Safety Module.
Let's say I want to start using Velvet.Capital. Where do I start? Where can I find some how-to guides?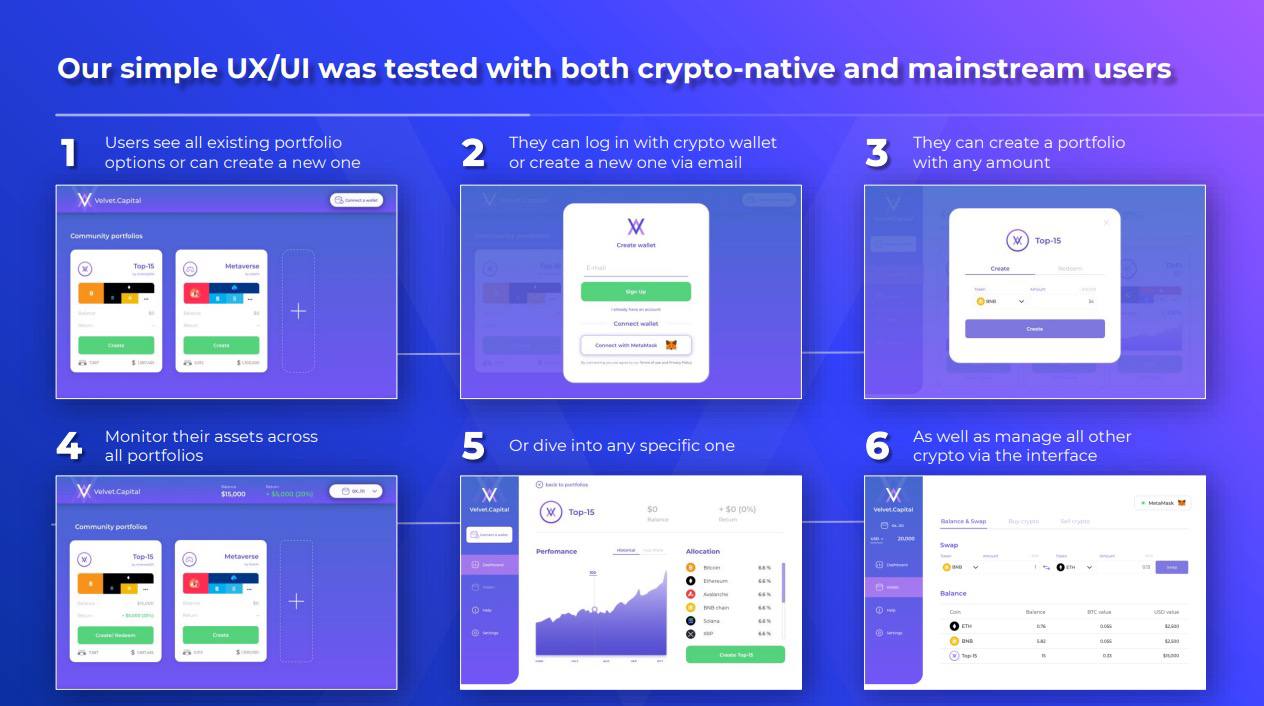 Getting started DEMO: https://youtu.be/zWhVe9DGwXE
Getting started Medium guide: https://medium.com/coinmonks/velvet-capital-goes-live-defi-just-got-a-whole-lot-simpler-safer-cf509c86ce7d
Website: https://velvet.capital/
dApp: https://app.velvet.capital/
Why did you decide to migrate/build on the BNB Chain?
The BNB ecosystem is great. We love the leadership team and the community. We saw a huge opportunity to bring value to the community by helping to build out the DeFi ecosystem so we decided to launch first on BNB Chain. Some of our BNB highlights include winning the BNB Revelation Hackathon and winning investment from the Binance Labs MVB Program.
We hope to see continued expansion and growth! We are excited to see what Binance does in the United States in the coming year.
What do you see as the main challenge for the future of DeFi?
I think the biggest challenge for DeFi at the moment is a mix of UI/UX being too complex for mainstream adoption and market sentiment at the moment. In the long run, the FTX news highlights the need for DeFi, as centralized systems are ripe for corruption; however, the FTX news really damaged the trust across the whole industry. It will take time to earn it back.
Where do you see DeFi and BNB Chain in five years?
The events of this month highlighted all the problems of centralized systems: lack of risk management and transparency which can lead to extreme misuse of the customer funds. Everyone knew about that in theory, but now it became apparent that we need to move into more transparent DeFi systems. We expect DeFi to go mainstream in the next cycle with both regular people and institutions using it as new financial rails. BNB Chain is ideally positioned to capture this growth given the broad ecosystem of partners and already the largest user base compared to any other chain.
Where do you position your brand in the DeFi space?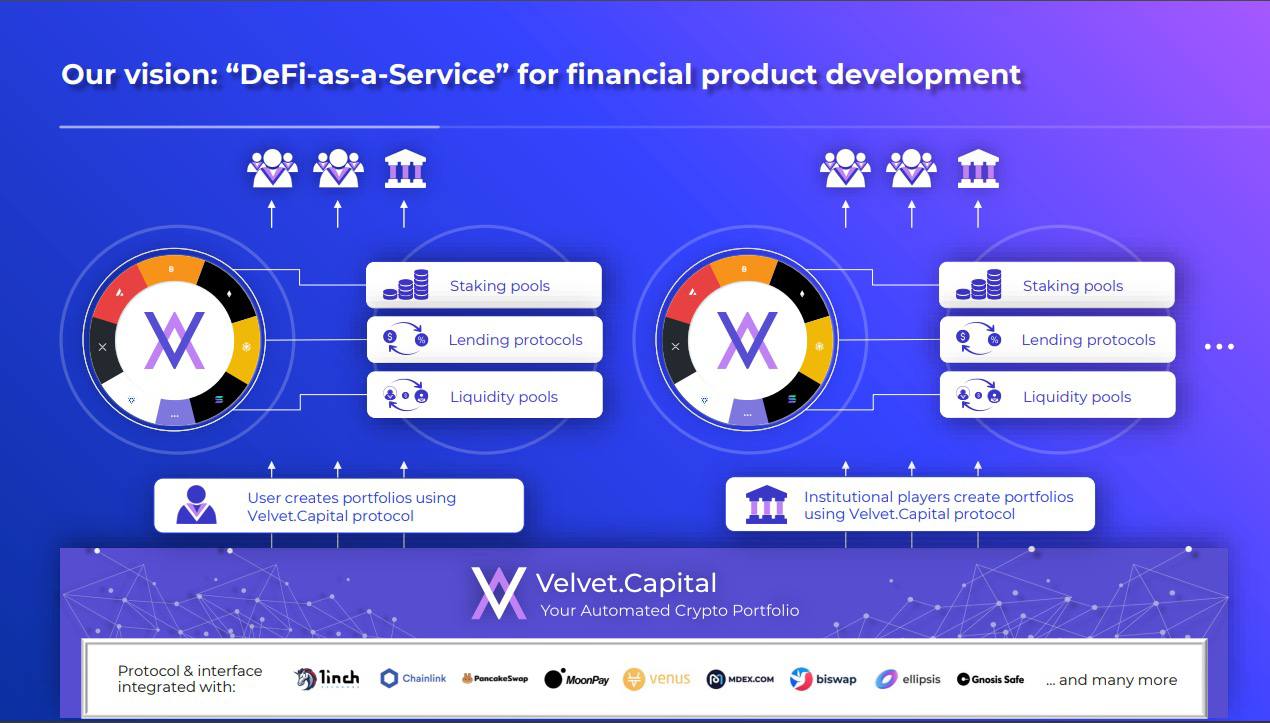 DeFi can be very hard but it doesn't have to be. At the core of what we are doing is simplicity and safety. At Velvet.Capital, the user always comes first. We want to have an interface that even crypto 'newbies' can feel comfortable with. That's why we're building with the next billion crypto users in mind.
That is not to say we do not cater to more advanced users. Our portfolios will be fully customizable and will allow for the creation of all kinds of structured financial products. We also offer DeFi-As-Service solutions to more institutional clients.
What's your impression of BNB Chain so far?
We were part of the latest Binance Labs MVB Program and it was fantastic. We learned a lot and certainly are better for it. It was a great opportunity to work with the Binance & BNB teams while also getting to know some of the top up and coming projects in the ecosystem! Everyone was so very helpful, knowledgeable and kind.
Can you share the project roadmap and whitepaper?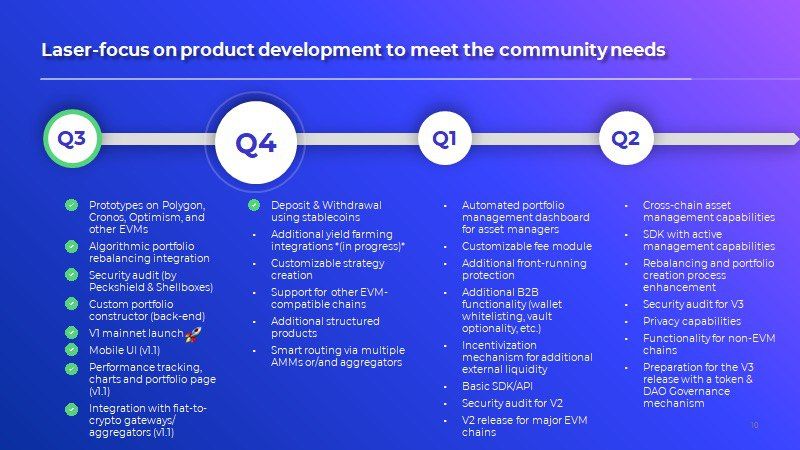 Roadmap: https://velvetcapital.notion.site/Product-Roadmap-8360dd1541a64ab5841159149a7d9c0a
Whitepaper: https://velvetcapital.notion.site/Velvet-Capital-Home-ac7c8b9f1ef2443eb378511946c0d522
Can we talk about your tokenomic model?
Our governance model ensures that Velvet becomes a decentralized community-managed solution by introducing VLVT, a governance token which will provide voting power to token-holders who stake their tokens with Velvet and will provide allocation of the fees to the token-holders participating in the project governance.
To incentivize further development, each token holder will be able to submit a proposal (e.g., add a new integration with other DeFi protocols or create a new portfolio), and receive an allocation of tokens upon successful voting and implementation. The majority of the tokens upon issuance will be allocated to the contributors (current and future) in the form of a Velvet Ecosystem Fund.
Our early adopters will also be eligible for receiving tokens in proportion to the TVL they have on Velvet and the time they've been using the platform. We will be including staking mechanism for users, in which they will be able to lock their portfolio tokens (e.g., TOP5) to earn VLVT rewards.
To increase protocol defensibility, the key use case for VelvetDAO tokens will be Risk Management. To earn fees, participants would have to stake their tokens into a Safety Module that will act as a backstop in case of losses due to protocol vulnerabilities or exploits of yield farming solutions. This will align responsibility (doing due diligence and voting on integrations) with accountability (staking tokens at risk) for the participants and will create a network effect that increases benefits for users with the growth of the project providing increasing safety.
Finally, do you have any upcoming events planned?
Token Release
We will have more information soon. But we'll just say keep your eyes posted. Our early adopters will also be eligible for receiving tokens in proportion to the TVL they have on Velvet and the time they've been using the platform. We will be including staking mechanism for users, in which they will be able to lock their portfolio tokens (e.g., TOP5) to earn VLVT rewards.
NFT Project Drop
We are also working on an NFT project that will be dropping at the beginning of the year! Our early adopters will have the opportunity to get some of these exclusive NFT's before anyone else.
Follow us to stay updated on everything BNB Chain!
Website | Twitter | Twitter (Devs) | Telegram | dApp Store | YouTube | Discord | Build N' Build Forum | Dev Community|