Today, at the BNB Chain Revelation Summit, we announced the 2022 technological roadmap packed with major updates deployed on the mainnet before the end of this year.
The BNB Chain developers community continuously innovates so that BNB Chain remains a highly competitive and functional blockchain infrastructure.
If you missed the Revelation Summit, don't despair. You can rewatch the whole 5-hour event here.
This article will introduce you to the entire 2022 roadmap.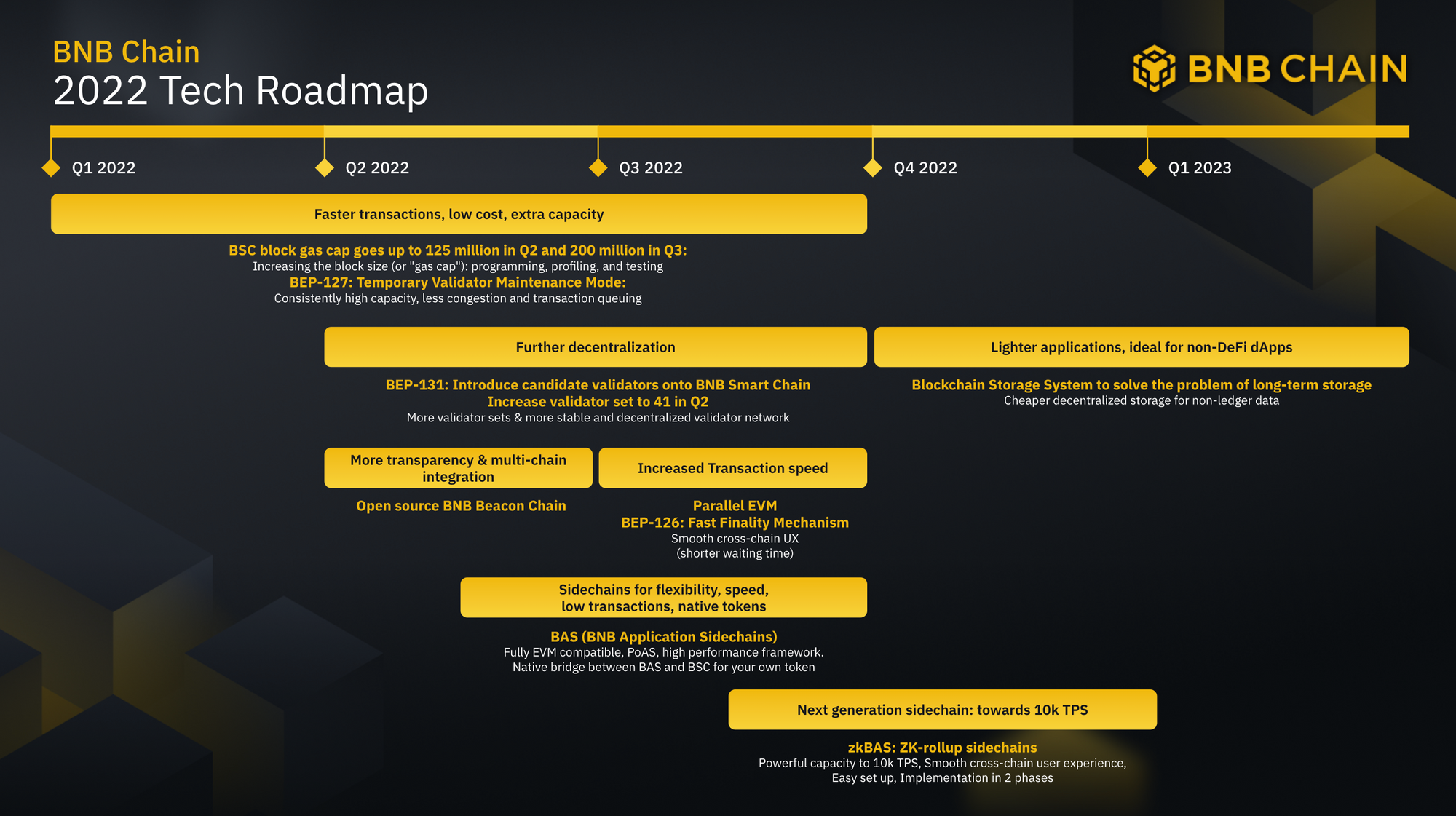 BSC Block Gas Capacity Increase
From Q1 to Q3 2022, BSC will have its block gas capacity increased until it reaches a 200 million gas cap. The block gas capacity refers to the maximum amount of gas (tx fees) included in a single block. This gas cap increase will positively impact both end-users and the BSC validators.
End-users will enjoy more capacity on the chain with less congestion and faster transaction confirmation times. Users will be able to fill more transactions into a single block and avoid high fees caused by network congestion, where users have to compete with higher tx fees to have their transactions processed.
Validators and node runners will find maintaining the full node easier with reduced disk footprint thanks to the prune tools.
The gas cap increase will ensure that BSC operates with enough capacity headroom to provide a seamless dApp experience even during the highest network activity. This improvement is being developed by the BNB Chain team in collaboration with NodeReal.
BEP-127: Temporary Maintenance Mode for Validators
Even though this improvement mainly focuses on validators, it will indirectly benefit the end-users. With BEP-127, BSC Mainnet validators can schedule emergency maintenance without decreasing the performance of the mainnet.
Validators can avoid mainnet forks and ensure higher network stability with the temporary maintenance mode as it allows them to troubleshoot system outages without affecting the network performance.
End-users can look forward to consistently high capacity, less congestion, and faster transaction queuing.
Further decentralization
BEP-131: Introduce Candidate Validators to BNB Smart Chain.
This proposal would increase the number of BSC Mainnet validators from 21 to 41, providing more decentralization and incentives for validators to constantly innovate their hardware and infrastructure.
BEP-131 will change the validator consensus module, introducing dynamic adjustment on the validator set. Validators will benefit from a more competitive consensus that gives even smaller candidate validators a chance to place in the validator set and earn rewards.
End-users will benefit from increased decentralization resulting in higher network security and more stability.
More transparency & multi-chain integration
BNB Beacon Chain Goes Open-Source
The open-source ideology has a strong presence in the cryptocurrency community, and BNB Chain wants to further contribute to this. Open-source software drives innovation, saves time and resources, and makes it easier for buidlers to create products that benefit end-users.
In Q2 2022, BNB Beacon Chain will open-source the Binance decentralized exchange (DEX) and make it available to developers to build on.
Developers can look forward to gaining access to the DEX matching engine code that will become free to use and build on.
Increased transaction speed
BEP-126: Fast Finality Mechanism
BEP-126 will implement BLS-based multi-signature for the peer-to-peer (P2P) channel and attest the blocks to fast finalize the state of the blockchain.
The final confirmation time of transactions will decrease to as short as two blocks and provide end-users with a smoother cross-chain user experience by decreasing the transaction time.
Sidechains for flexibility, speed, low transactions & native tokens
BNB Application Sidechain
At this stage, the BAS framework will go live to enable the development of new dApps on this new high-performance infrastructure. It will come with a full Ethereum compatibility (EVM) and operate on the PoSA consensus. Thanks to this, developers will find it very easy to start building on BAS without learning a new coding language or wasting hours reading technical materials.
A native bridge between BAS and the BSC Mainnet is a part of this integration and allows frictionless bridging for BEP-20 and BEP-121 tokens.
Developers will benefit from an off-the-shelf public blockchain solution for specific application usage. They can use BAS to deploy single dApps that don't have to compete for block space with dApps operating on the BSC Mainnet. BAS will also allow developers to customize chain parameters such as transaction fees and operate a custom validator set.
All end-users using dApps running on BAS can look forward to lower (or even zero) fees and no congestion. BAS dedicated chains are an excellent solution for dApps with high network usage, such as GameFi or SocialFi.
This improvement is a collaboration between the BNB Core team, NodeReal, & Ankr.
The first deployment on the BAS will be three decentralized applications (dApps) by META Apes, Project Galaxy, and Metaverse World, as well as integrations by leading infrastructure partners such as Ankr, Celer,Mathwallet ,Multichain, NodeReal, and  Pyth Network.  
Next-generation sidechains; towards 10,000 tps
zkBAS
Another layer of improvement on the BAS infrastructure is ZK-rollup-based applications running on their dedicated sidechain.
This tech advancement will come in two phases:
Phase one will focus on the rollup onto BSC for BEP20 and NFTs operations on BAS.
Phase two will be a specific application dedicated to ZK Rollup via generic circuit generators.
Developers will gain access to native token bridges and circulation between BSC Mainnet and zkBAS without any additional work. The application sidechain's security will be at the same level as BSC, further decreasing the workload. The main benefit of zkBAS is a much larger transaction capacity of up to 10,000 transactions per second.
End-users will experience smoother cross-chain functionality and a powerful transaction capacity with close-to-zero fees.
zkBAS development is a collaboration between the BNB Core team & Zecrey.
Lighter applications, ideal for non-DeFi dApps
Blockchain Storage System
And last but not least, BNB Chain will introduce an improved blockchain storage system that is still under research. This will solve validators' long-term storage issues that strain their operational expenses and hardware requirements. A part of this development will be access to cheaper decentralized storage for non-ledger data.
We believe that this will popularize more non-financial applications among end-users who will enjoy consistent capacity that will not deteriorate as the storage size increases.
The main takeaway is that the BNB Chain developers community is working hard to improve the BNB Chain infrastructure and keep the user experience at the top of their priority list. As the crypto ecosystem evolves, we might add more tech innovations to the roadmap, but these are the main developments we wanted to share with you for now.
What do you think about the BNB Chain 2022 roadmap? Did you enjoy the Revelation Summit? Let us know on Twitter!
---
Follow us to stay updated on everything BNB Chain!
Website | Twitter | Telegram | Youtube | Gitcoin | Discord | Build N' Build Forum | CMC Gravity