Easter is just around the corner! And to celebrate, BNB Chain invites you to join in a fun-filled quest as you go on the search for exciting prizes in our upcoming NFT Easter Egg Hunt.
From 12pm UTC on April 3rd to 12pm UTC on April 9th, take part in what promises to be an adventure of sweet surprises. We're eggstatic to announce that there will be an incredible prize pool of 15,000 USDT worth of NFTs and tokens, and 15,000 USDT in the grand draw on offer.
To participate, you will draw eggs and complete the corresponding tasks on DappBay during the seven day event.
How to participate and make Easter 2023 one to remember:

You have a chance to win big in two ways:
The USDT Grand Draw; or
The Task Raffle
To be one of the 100 winners of the USDT Grand Draw, you need to collect at least 20 'Task' eggs before the campaign ends to join the raffle and mint a BNB Chain Easter Egg.
To be a Task Raffle winner, you will need to complete the tasks that you draw from the egg tickets, and you will be entered into the Raffle.
Here's the breakdown of how to participate…

Log on to DappBay and connect your wallet.
Here you will receive 3 egg drawing tickets daily.
You will either draw a 'Task' egg or a 'Quiz' egg.
If you receive a Task egg:
Go to the task and complete it on Galxe
Once you have completed the task, you will join the raffle
You can get up to 15 extra tickets during the duration of the campaign when you complete social tasks on Galxe
If you collect 20 Task eggs, you can head over to Galxe to mint an exclusive BNB Chain Easter Egg NFT and join the prize draw!
If you receive a Quiz egg:
You will be given an educational article to read
Once you've read it, complete the short quiz
If you get 2 out of 3 questions correct, you will get to mint an AI egg NFT
Share your exclusive AI egg NFT on Twitter using the hashtag #BNBEasterHunt and #AIEggNFT to get one more egg drawing ticket per day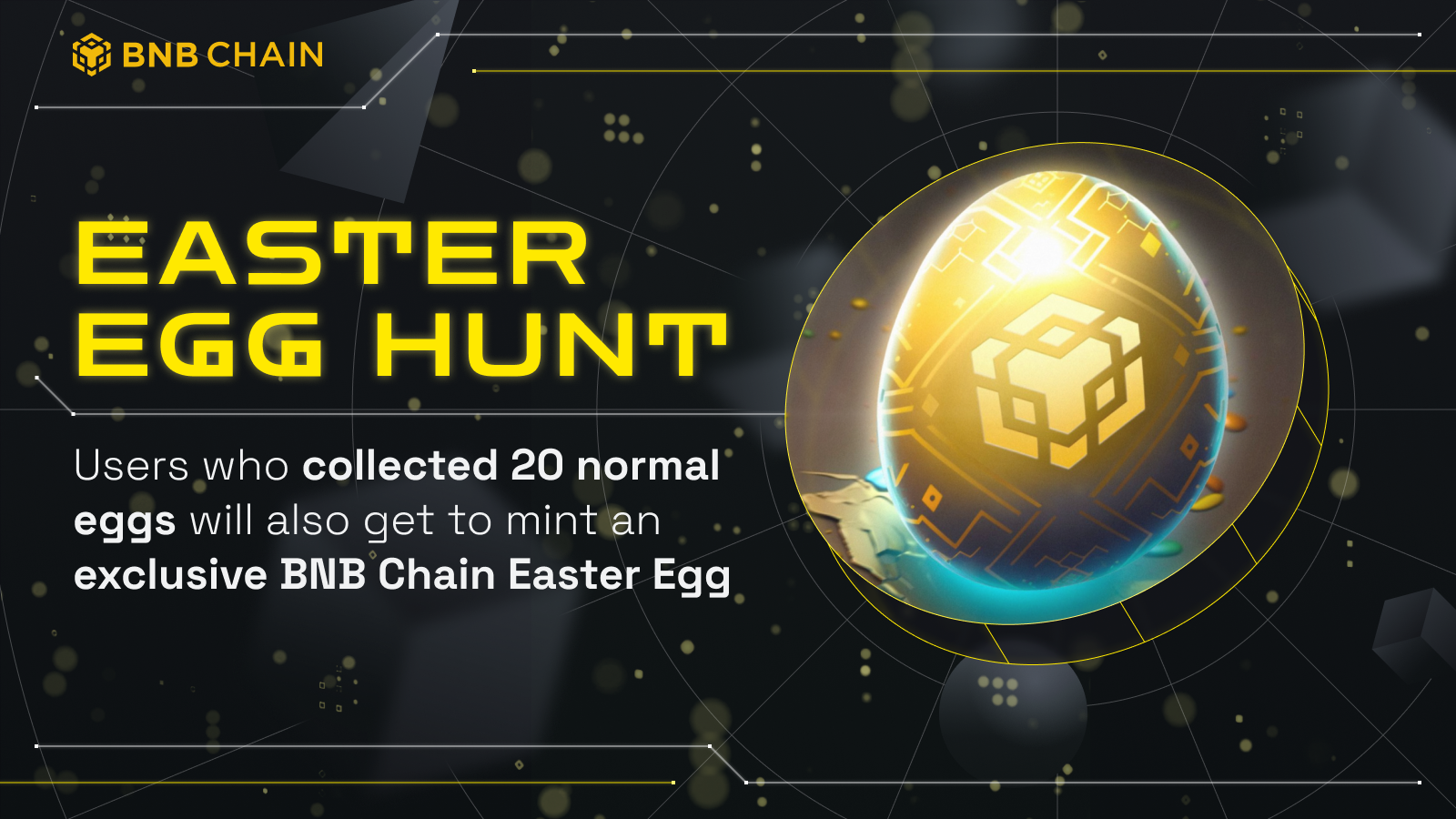 Win big!
Users who collect at least 20 Task eggs and verify this on Galxe before the end of the campaign will be entered into the raffle, taking place on  9th April at 3PM UTC, with a grand prize pool of 15,000 USDT that will be shared among 100 lucky winners.
If you are a winner, and have claimed and signed the transaction on Galxe, your prize will automatically be distributed to your wallet. For the remaining rewards from partners, winners will be airdropped their prizes within 14 days after the campaign ends. Get ready to win big!
A thank you to our Partners
We want to give a big thank you to our ecosystem partners for making this such an exciting adventure for our users.
Thanks to Galxe, Hooked, Magic Square, MathWallet, SecondLive, Dmail Network, ReadON, TopGoal, CARV, GoPlus Security, Plant Crossing, Citizen Conflict, Gaimin, P12, BinaryX, Stella Fantasy, and Alterverse.
Remember to set your alarms as you don't want to miss the chance to be a part of BNB Chain's Easter Egg Hunt 2023!
Follow us to stay updated on everything BNB Chain!
Website | Twitter | Twitter (Devs) | Telegram | dApp Store | YouTube | Discord | LinkedIn | Build N' Build Forum | Dev Community|