BNB, the token powering BSC network, the most-used blockchain in the industry, has walked a long way since its inception. It was initially issued in 2017 as an ERC-20 token, running on the Ethereum network. Later in April 2019, it migrated over to Binance Chain and eventually became the fuel for the BSC network launched in September 2020. Powered by BNB, Binance Smart Chain grew into a thrilling and vibrant ecosystem with millions of users and thousands of dApps. It became the dominant blockchain during the DeFi and GameFi buildup.
BNB progressed from a native token of the Binance.com exchange used primarily for trading and Binance products into a gas fee and main asset of the more decentralized and scalable BSC network. Today, BNB is used by hundreds of dApps, listed on several exchanges, and held by millions of users who consider it to be one of the top cryptocurrencies. BNB is currently the 4th most popular cryptocurrency with over a $65 billion market cap, proving the above.
A lot has changed for BNB since BSC's launch in September 2020, and today, we're pushing the BNB ecosystem even further. From now on, BNB and its networks Binance Chain and Binance Smart Chain form the new BNB Chain ecosystem built around this outstanding utility token.
BNB is beyond Binance
The separation of Binance.com and BNB will provide the BNB Chain with more opportunities and freedom to seek innovations. At the same time, BNB Chain will remain loyal to BSC's mission to deliver the core infrastructure necessary for future public adoption. The BNB Chain will remain a community-first and open-source ecosystem built on a permissionless and decentralized environment.
BNB Chain will magnify the existing BSC programs, such as the Most Valuable Builder and its Incubation Program, community-driven events and workshops, and other initiatives, and introduce new initiatives for the MetaFi age. To prove BNB Chain's commitment to these words, the BNB Chain community and its partners will announce a new communal DeFi-oriented program on February 16.
The previously published article BSC 2022 painted a way forward and teased some of the technological advancements coming to the BNB Chain this year:
Introduction of BSC Application Sidechains (BAS)
New BSC Partition Chains to offload the strain on BSC mainnet
Introducing on-chain governance mechanisms
Expanded validator set from 21 to 41 validators to provide more decentralization and boost scalability
and more...
These advancements will enable BNB Chain to serve large-scale applications such as blockchain games, SocialFi, and the metaverse and improve the community's experience. It will also give birth to a new paradigm shift called MetaFi.
MetaFi is a concept that provides advanced and sophisticated DeFi infrastructure to all the different types of projects such as metaverse, GameFi, SocialFi, Web3, and NFTs and puts them under one umbrella – MetaFi. MetaFi is a future all-encompassing ecosystem that promises to deliver a paradigm shift that will enable seamless interoperability between different projects and blockchains.
You can learn more about MetaFi in the previously published article – MetaFi: When DeFi Meets Meta.
The birth of the BNB Chain marks a significant milestone in the evolution of both the BNB utility token and the Binance Chain and BSC networks. It kickstarts a new era of more user-friendly and performance-focused blockchain applications that will serve the masses and provide organizations and businesses with the infrastructure required to migrate to blockchain and into the Web3.
BNB Chain will develop the tools and network to support mass transfers of data and assets and send crypto towards adopting its first 1 billion crypto users.
Join the BNB Chain introduction live stream!
You're invited to join us today at 16:00 UTC for the BNB Chain announcement live stream with CZ, CEO of Binance.com, Jim Breyer of Breyer Capital, Mo Shaikh from Stealth Chain, and Samy & Gwendolyn from the BNB Chain team.
You can watch it on BNB Chain Youtube or via Binance Live.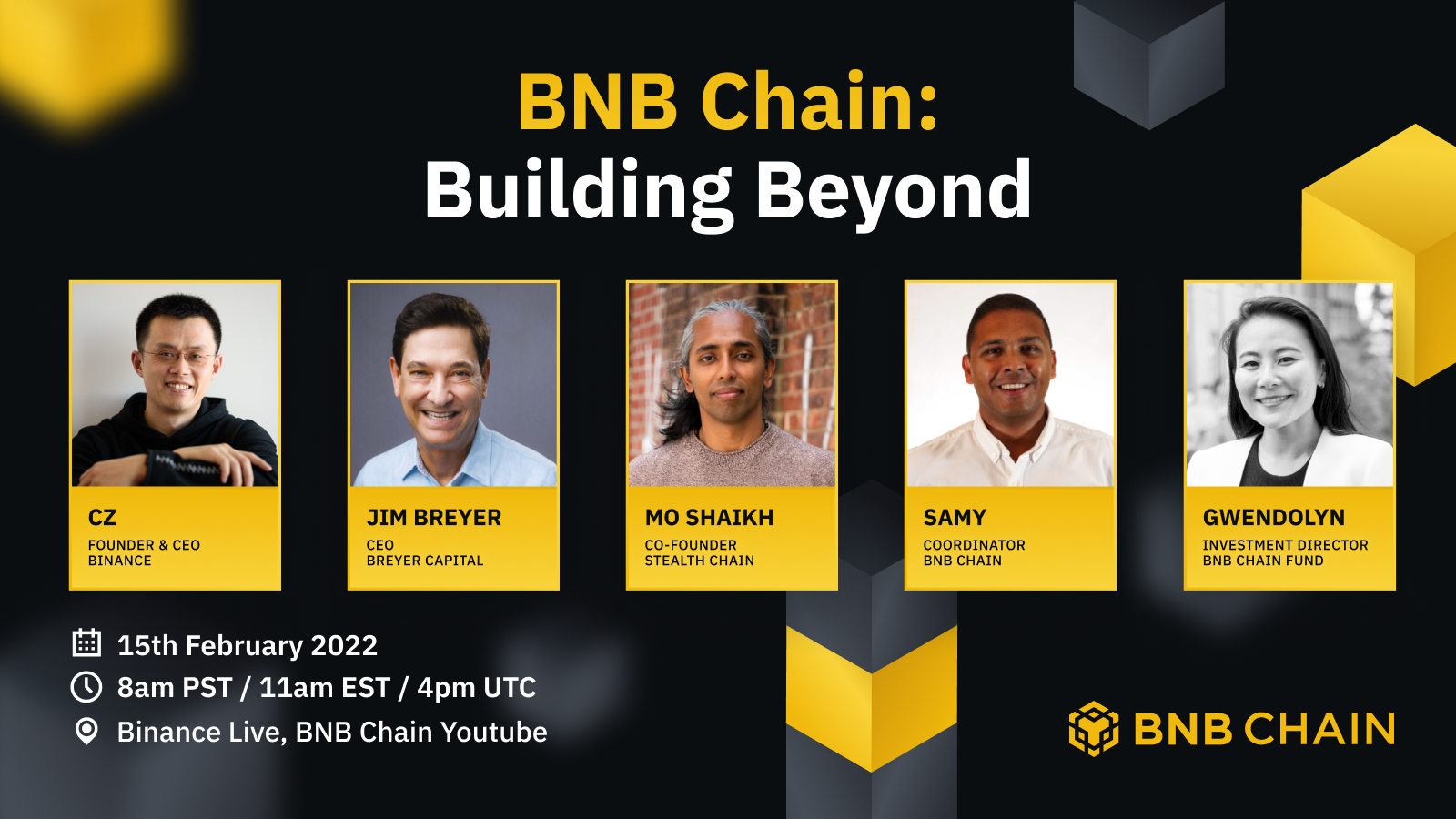 BNB Chain FAQ
Does this rebranding affect my funds or me?
As a user, you don't have to make any changes or move your funds. There's no technical change to the existing BSC blockchain, so you can keep using the network and your funds as before. This rebranding will not affect your holdings or wallet.
How can I stake my BNB with BNB Chain validators?
The staking process is unaffected and remains the same as before. Simply go to https://www.bnbchain.world/en/staking, select your preferred validator, and click Delegate. The staking process is unaffected and remains the same as before.
Does BNB Chain use the same BEP20 token standard as BSC?
Yes, the token standard remains unchanged.
Does the rebranding affect the way I interact with Metamask and other wallets?
No, the wallet functionality remains unchanged.