In this edition of BSC Project Spotlight, we come back to previously featured projects that caught your attention. We sit down with them to discuss what changed since our last interview, explore their activity and data, and discuss their new and upcoming products.
Today, we're going back to meet NFTb, the complete multichain DeFi and NFT platform for communities.
Earlier this year, we shared that NFTb has secured investment BSC's under the $100M fund and the team's progress launching a Premium NFT Marketplace on BSC.
Spotlight on NFTb
IMPORTANT: Please note the following content does not constitute an endorsement or approval of any of the products or services of the project, organization, or individual.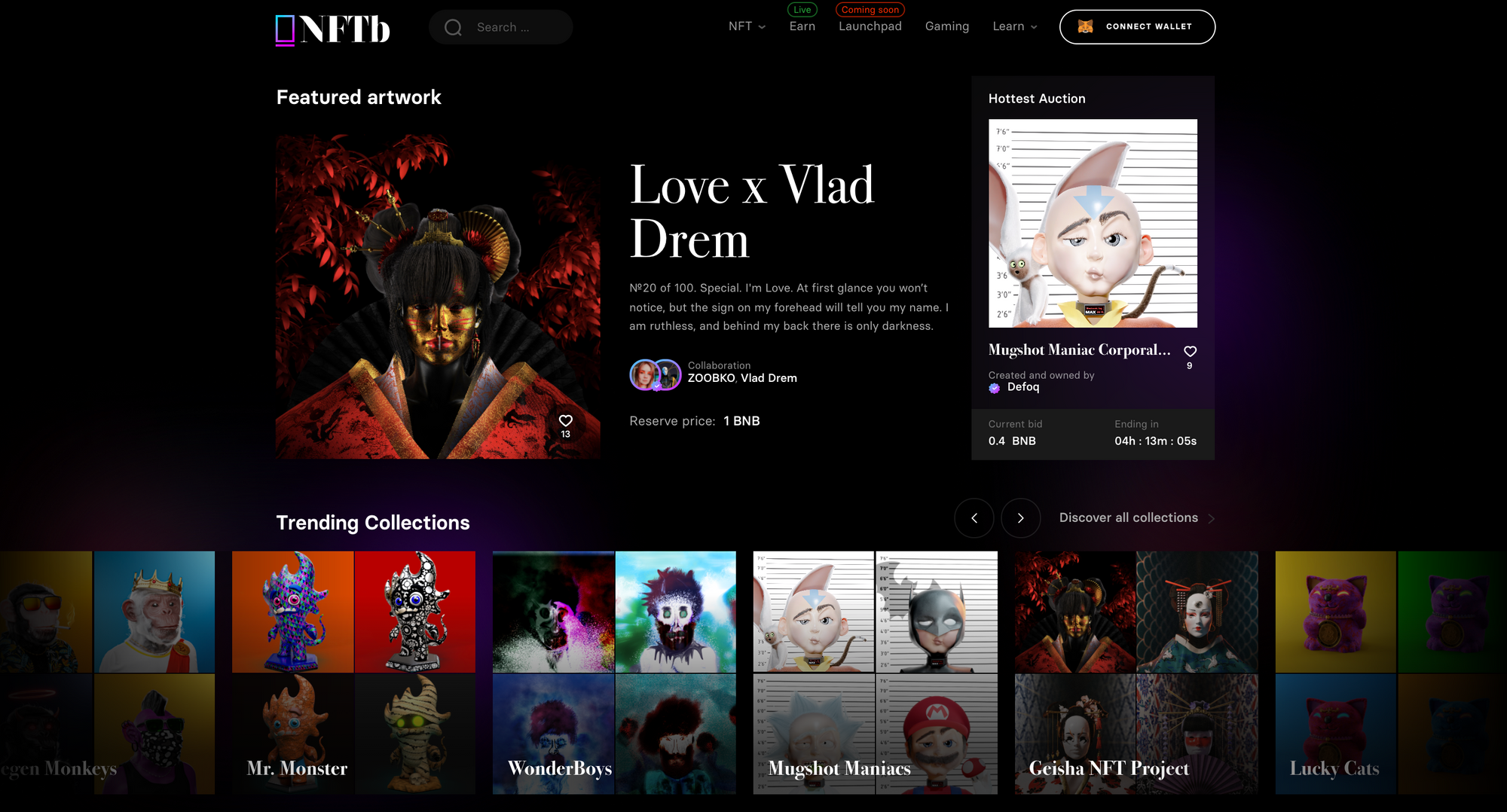 It's great to talk to you again. To start this off, tell us how NFTb evolved since we spoke the last time?
NFTb originally launched as a Premium NFT Marketplace on BSC. However, after speaking with artists for 100s of hours — we discovered that solving the issues of transacting with NFTs isn't just about making an NFT platform that is easy to use but about creating a platform that enables creators and users to access opportunities in DeFi and engage their audience.
Over the past few months, the NFTb team has been working hard to reposition NFTb from "the first premium NFT marketplace on BSC" to shift its focus on being "the complete multichain NFT and DeFi platform for communities."
This means that, unlike other projects that have added an NFT marketplace ad-hoc, NFTb is on a mission to help creators first take advantage of opportunities in the world of DeFi. In other words, we want to help creators of the world love using DeFi dApps, instead of inspiring a subset of DeFi enthusiasts to love NFTs.
NFTb is now much more than just a premium NFT marketplace. Our products include:
NFTb Market — A premium NFT marketplace where creators can access buyers from anywhere around the world and on multichains
NFTb Earn — A DeFi platform giving users access to yield farming opportunities and an AMM to become a liquidity provider in various DeFi farms.
NFTb Launch — A first-of-its-kind NFT Launchpad created to help projects and creators mitigate the risk and accelerate the launch of their NFTs in a way that is fair for all.
But that's not all! We've found that our user-centric approach to building platforms can be applied to other communities and blockchain ecosystems. This is why we have decided to take our platform multichain and expand the NFTb Platform for Gamers!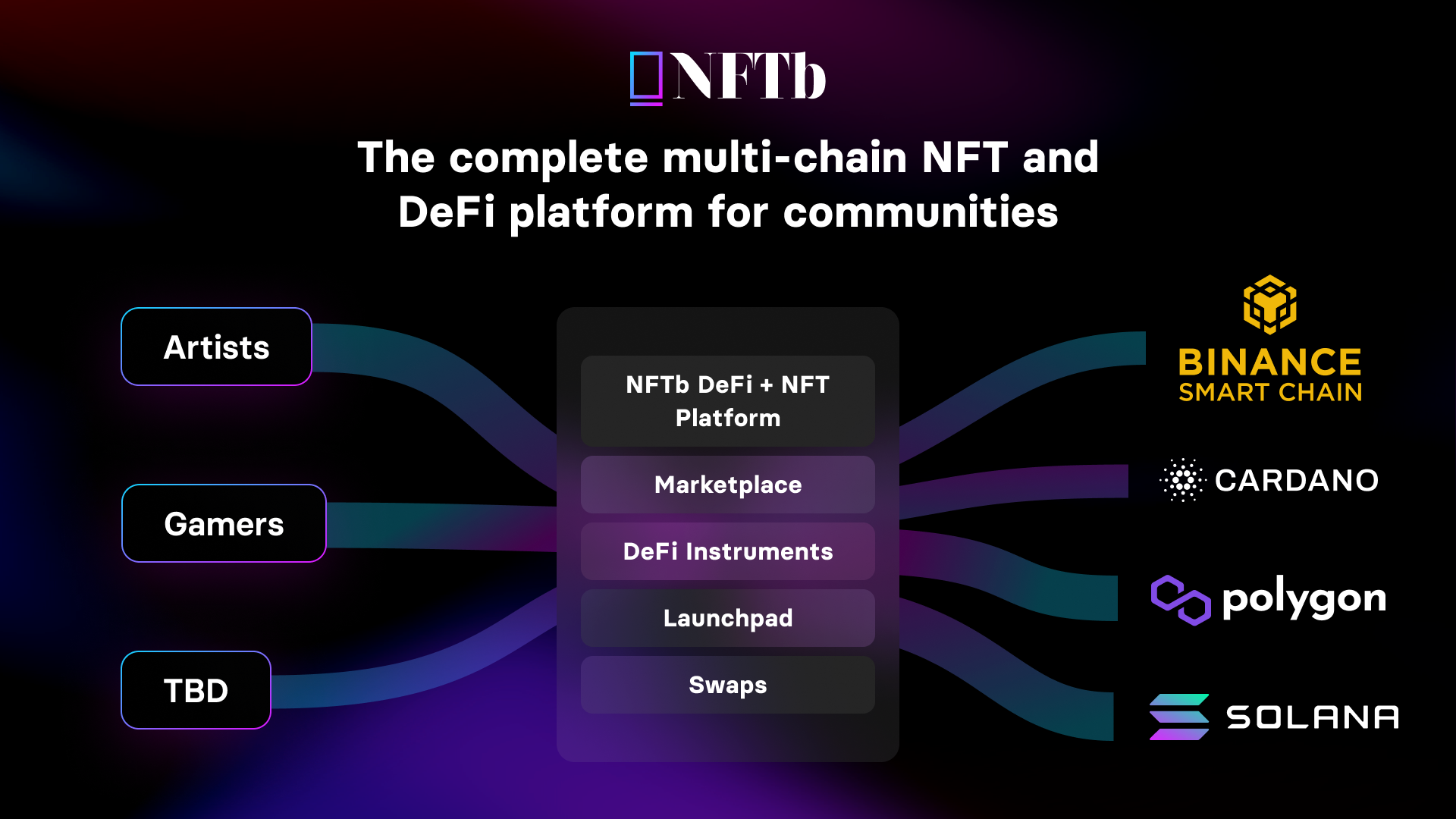 GameFi is currently exploding on BSC. Will NFTb get involved in GameFi?
Last week, we announced NFTb Gaming, a Cross-Chain NFT and DeFi Platform for Gamers, to empower gamers to unlock the value of owning gaming collectibles.
NFTb Gaming implements NFTb's design philosophy and technology stack for Gaming NFTs. This includes introducing more robust social and marketplace features that gamers expect. We will also be redesigning the UI to ensure that features that are needed for gaming users are easily accessible.
NFTb Gaming will introduce innovations such as:
Cross-Game Atomic Swaps, which will enable gamers to take their hard earned gaming collectables to their next game. Gaming projects will also be able to use NFTb Gaming to build community by encouraging users to 'transfer their progress from other games over to their game.
Renting out your in-game NFTs. NFTb is building a feature, which will enable gamers to unlock the value of their unused gaming collectibles by renting them out.
We have 8 Play2Earn games from the BSC ecosystem that have signed on as launch partners. NFTb has also joined the Blockchain Gaming Alliance (BGA) to work closely with leaders in the blockchain gaming sphere to form UX best practices for gaming collectibles on NFT marketplaces.
What inspired you to introduce the first INO launchpad to the BSC ecosystem?
The recent success of CryptoPunks and our very own Bored Clowns Collection by Rzijj has inspired many artists to create more high-quality resource-intensive NFT projects. As the market for NFTs matures, we expect to see the quality standard of NFTs increase. We are seeing many NFT creators take greater risks by investing more time and resources in producing NFTs in a rapidly increasing competitive market.

NFTb Launch is the first of its kind NFT Launchpad created to help projects and creators accelerate and mitigate the risk of launching their NFTs in a fair way for all. With NFTb Launch, creators and projects can build early community through an Initial NFT Offering (INO). This represents a unique opportunity to lower the risk of entry for creating resource-intensive NFT projects for creators and projects.
NFTb has found a unique way to incentivize and reward all NFTB token holders access to exclusive NFT and project launches. While helping creators and projects generate interest for their work.
How has NFTb's NFT marketplace been performing?
We've seen a huge uptick in sales since the NFT craze; artists that have created NFT series or collections have benefited the most on our platform. We expect this to grow quickly as NFTb launches its gaming platform.
We recently announced a partnership with an Imperium, an NFT agency that brings celebrity NFTs over to NFTb.
Since launching only three months ago, several of our top creators have sold over 50 BNB in digital art. Many of these artists have never created NFTs before joining NFTb.

What issues in the NFTs do you plan to address next?
As NFTs are relatively new, we've seen interest in them explode in 2021. However, even the most passionate of collectors will need to sell their prized collections at some point.  
Improving the liquidity of NFTs is a problem that NFTb has been working on. We're building features and solutions to improve liquidity for NFTs. This includes working closely with other NFT Marketplaces like Binance NFT to ensure that NFTs can easily be tradeable between platforms and fractional ownership of NFTs.