Are you hyped to train with a legend? Lace up those boots and make your way to the field: CR7's got a few things to teach you about Web3.
It takes dedication to prepare like a champion, so together with Ronaldo we've created a Web3 challenge to test your knowledge and give you the chance to win exclusive NFTs from his Binance collection.
Cristiano Ronaldo is the greatest footballer of his generation. He's won 32 trophies throughout his career, including seven league titles, five UEFA Champions Leagues, and the UEFA European Championship. With over 800 official senior goals to his name, he's the top goalscorer in the modern era and has inspired millions of fans across the world.
Are you ready to train with the greatest? Navigate to our training page starting December 7th, where you'll read an article about Web3 and answer a quiz question. Each day of the week we'll post a new article and quiz question relating to blockchain, metaverse, NFTs, and other fascinating topics.
Correct answers earn you a chance to enter our Lucky Draw for 67 Normal and 10 Rare CR7 NFTs on December 14th and 15th. More correct answers means more chances to win, so train hard! For those who answer all seven questions correctly, your chances will double to 14.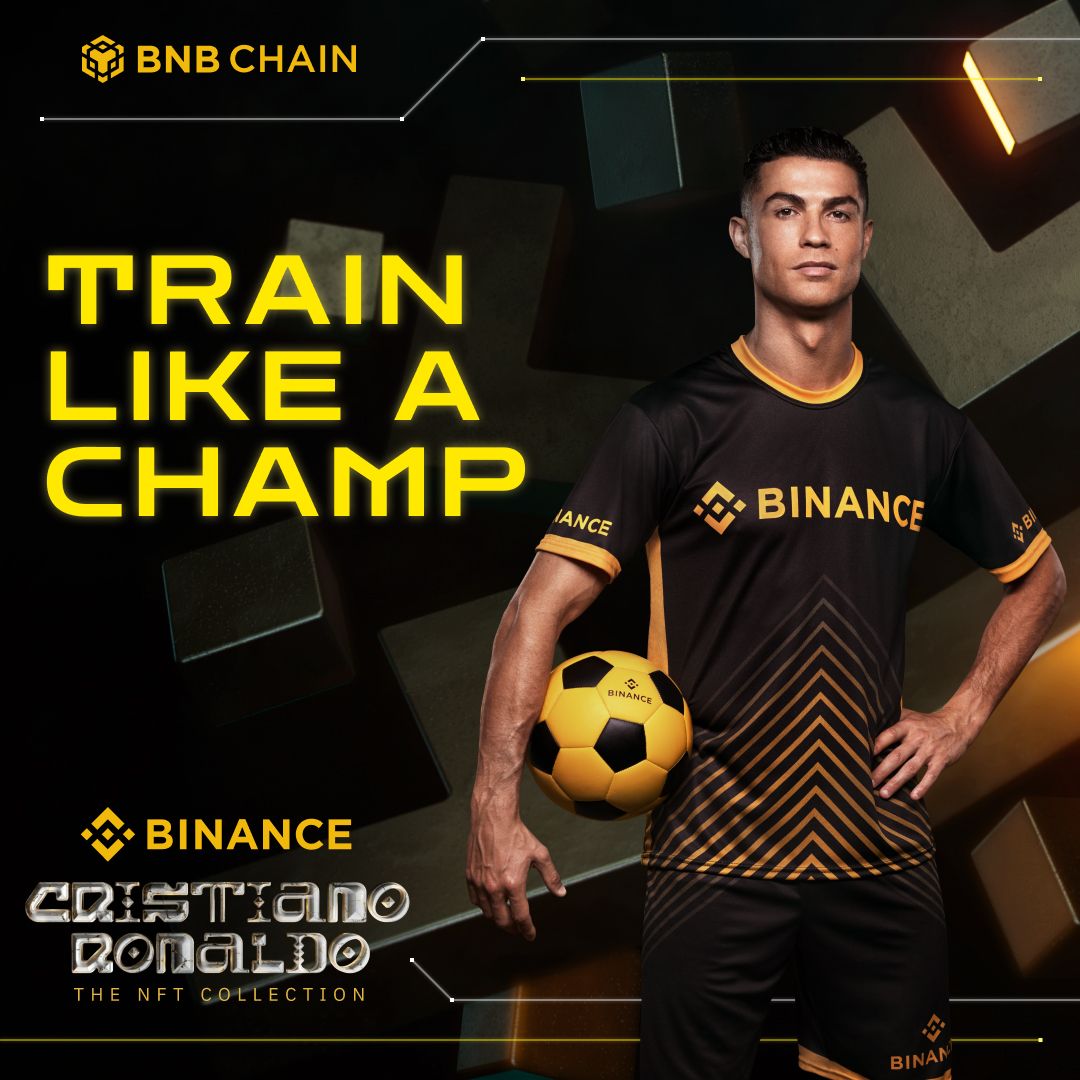 How does 'Learn Web3 with Ronaldo and BNB Chain' work?
Visit the training page and connect your wallet.
Read a Web3 article and answer a quiz question (1 article and quiz question per day for 7 days). Each correct answer earns you 1 Lucky Draw chance.
Answer all 7 questions correctly and your chances will double to 14!
Entering the Lucky Draw after training ends:

On Dec. 14, return to the training page and connect your wallet to enter the Lucky Draw.
67 Normal NFTs and 10 Rare NFTs will be randomly issued to entrants.
If you successfully draw an NFT, you won't have a chance to enter again.
Please allow up to 14 Days to receive any NFTs won.
About the NFT Collection:
Cristiano Ronaldo: The NFT Collection, commemorating the legacy of one of the best to ever grace the game of football, is the first in a series of limited-edition drops. The collection will feature seven of Ronaldo's most iconic moments —  including his electrifying bicycle kick — reimagined and immortalized forever as seven CGI-rendered NFT statues with four rarity levels: Super Super Rare (SSR), Super Rare (SR), Rare (R), and Normal (N). Go beyond just watching the goals, the celebrations, and the glory. Own them!
Participants in 'Learn Web3 with Ronaldo and BNB Chain' can win one of four NFTs:
The Breakout (Gold)
The First Step (Gold)
The Coming of Age (Gold)
The Restoration (Metaverse)
Follow us to stay updated on everything BNB Chain!
Website | Twitter | Twitter (Devs) | Telegram | dApp Store | YouTube | Discord | Build N' Build Forum | Dev Community |