We support the BNB Chain community during all times, both good and bad, and we want to help projects buidling on BNB Chain in exploring the uncharted territory.
As previous bear market cycles showed, these volatile downturns quickly become the survival of the fittest and a fantastic opportunity to build a long-lasting and popular project. That's why today we're announcing the fifth season of the Most Valuable Builder accelerator program fittingly titled #MVBV - Uncharted Territory.
#MVBV - Uncharted Territory
The main focus of this season of MVB is to explore new opportunities and help emerging projects get a kickstart at success. The current crypto landscape is highly volatile, but the #MVBV program offers a beacon of stability and innovation for those hungry to buidl.
Downturn markets are an opportunity to shape the future of crypto as all the noise cools down, and dedicated developers can focus on building products that users enjoy and benefit from. To help new and emerging projects get better access to the tools they need, we're bringing you a partnership between BNB Chain and Binance Labs, who carry years of experience building in unexplored territories.
Together we will focus on helping projects grow more organically through coaching and investments.
#MVBV starts and opens to applications on May 31. The application window will close on June 24. In late June, we will announce the successful projects which will join the MVB accelerator program and go through intensive coaching and workshops for 6-8 weeks.
Who's #MVBV for?
We're looking for projects that need acceleration and that drive innovation and progress within the BNB Chain ecosystem as well as the whole blockchain industry. We welcome projects in all stages and at all valuations.
The focus is on finding projects with a unique market fit and a secure environment that delivers high-performing and efficient innovations to the ecosystem.
To name a few areas of interest:
Infrastructure: middleware, cross-chain, security/risk control tools
DeFi: advanced DeFi, portfolio management, stream pay
GameFi: play to earn, game development tools
SocialFi: fan engagement platforms, creator content tools
Metaverse: virtual platforms, analytics & development tools
However, we encourage all kinds of innovators to apply if they believe they're buidling a unique product.
How to apply
The application process is straightforward and takes only a few minutes to complete. Applicants have to register via a simple form that gathers basic information about the project so we can understand what you're buidling.
Click here to register for #MVBV now!
What to expect from #MVBV?
The program consists of multiple parts, including coaching, workshops, and investment opportunities from Binance Labs that will be offered to the best projects based on a careful reviewal process.
In coaching sessions, we will focus on:
Product design
Node and infrastructure support
Go-to-market strategy
Fundraising
Data tooling
Business development
and more …
In addition to the benefits from previous MVB seasons, MVB V will offer successful applicants access to:
Potential direct investment from Binance
Alumni network
Business development support
Security support
Industry exposure
Binance Labs Partnership
Binance Labs is the venture arm of Binance, which runs infrastructure impact funds with an initiative to incubate, invest in, and empower blockchain projects. Binance Labs covers the full life cycle of start-ups, from early-stage incubation to late-stage venture capital investments.
"We are excited to be the strategic partner of the BNB Chain team in bringing the best accelerator program to the BNB community. Through MVB V, Binance Labs will be collaborating with the BNB Chain team to identify quality projects and teams with unique goals and visions for building the BNB ecosystem. We will offer investment support to the best participants of #MVBV." – Tyler Zhou, Investment Manager at Binance Labs
Binance Labs provides various value creation services to its portfolio companies. Invested projects will benefit from Binance's deep liquidity, diversified ecosystem, professional advisory, and Binance's extensive network and widespread resources in the industry.
Since 2018, Binance Labs has an existing portfolio of 180+ projects with an AUM of $10 billion. Investment track record includes billion dollar worth names such as FTX, Axie Infinity, Matic, Dune Analytics, LayerZero, etc.
The History of #MVB
As this is already the fifth season of #MVB, there are many participating projects that gained immense popularity, with some MVB winners dominating the global rankings in DeFi, NFT, GameFi, and Infrastructure & Tooling.
Undoubtedly the biggest success of MVB participants is being listed on the world's largest exchange, Binance.com. Here, MVB raised 12 successful projects who made it to Binance.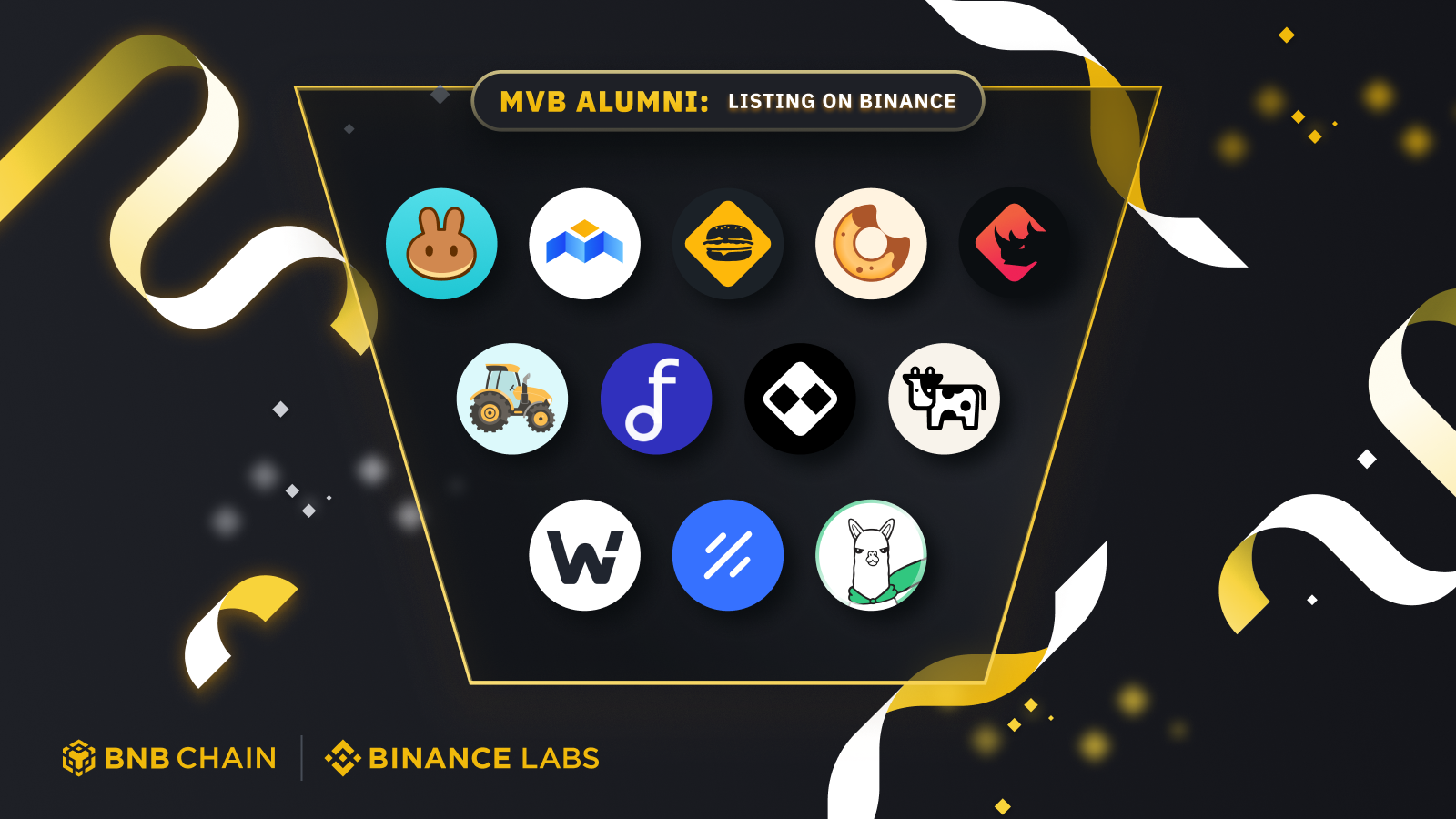 Apart from listings on Binance.com, MVB participants also benefited from various kinds of investments, to mention just a few successful investment recipients:
MCDEX
Biswap
Deri Protocol
WOO Network
... and more.
So don't hesitate anymore and apply to #MVBV with your project now! Who knows, this could be an opportunity of a lifetime.  
---
Follow us to stay updated on everything BNB Chain!
Website | Twitter | Telegram | Youtube | Gitcoin | Discord | Build N' Build Forum | CMC Gravity