Today we are thrilled to announce the launch of opBNB Mainnet. This momentous event brings us closer to our mission of bringing the next one billion users to Web3. Users can join the opBNB mainnet here.
opBNB, an Ethereum Virtual Machine (EVM)-compatible Layer 2 chain based on Optimism OP Stack, promises to revolutionize the blockchain industry by offering cheaper gas fees and democratizing access to blockchain technology.
Testnet Achievements
The journey towards opBNB Mainnet began on June 19, 2023, with the launch of our Testnet. Over the last few months, our community and developers diligently tested the network, resulting in remarkable achievements:
Over 35 million on-chain transactions processed.
Connection to 435,972 unique wallet addresses (at the time of writing).
150+ dApps deployed on the Testnet.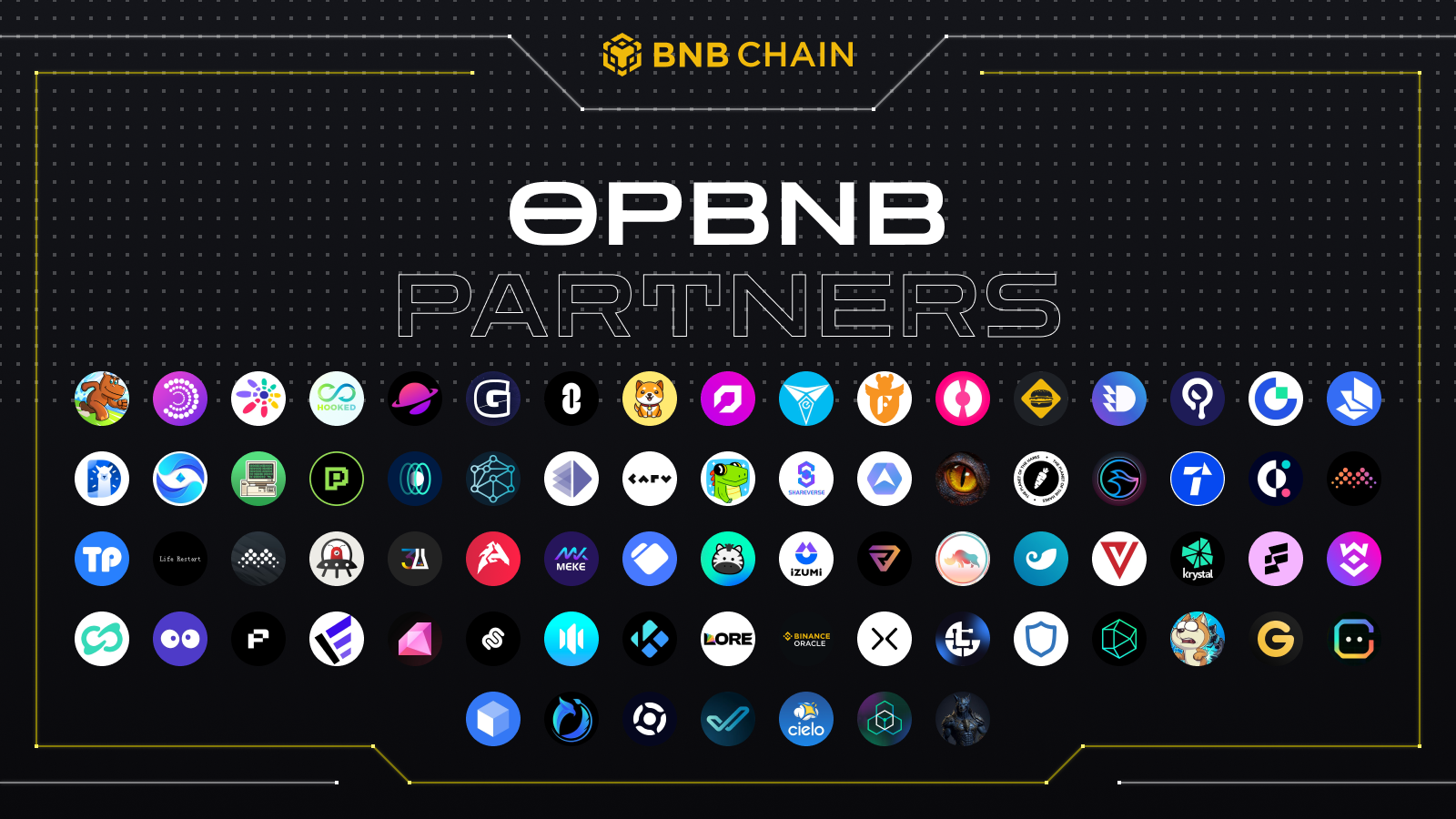 The logos are presented here to showcase opBNB's ecosystem, and they do not serve as investment instructions for BNB Chain.
Our Testnet also showcased unparalleled processing performance:
Fast block times of approximately 1 second.
Over 86,000 daily blocks are processed daily.
Handling a remarkable daily transaction range of 100-150K.
Active community of 6,000+ daily active users.
Road to Mainnet
Our focus on scalability and security has led to defining key milestones before opening the Mainnet, and opBNB has met all of the require Mainnet genesis criteria:
High Availability (HA) solution to prevent a single point of failure.
Achieving a peak of 4K transactions per second (TPS).
Conducting a stress testing campaign to assess performance, scalability, and robustness.
Ensuring cheaper gas costs with an average of 0.2 gwei.
Ongoing security audits (both internal and external), to enhance infrastructure security.
opBNB's value proposition can be summarized as follows:
Super Cheap Gas Cost
Layer 2 gas costs as low as 0.2 gwei.
Transaction cost reduced to as low as $0.005 per transfer transaction.
Security is our top priority:
Trustless approach with no assumptions about the Sequencer.
All opBNB transaction data submitted on BNB Smart Chain and is verified by all full nodes.
Even with a single sequencer in place now, concerns about potential censorship can be mitigated.
Users have the option to utilize Deposit transactions, which guarantees their inclusion in the canonical L2 chain.
A multisig wallet that can be used to upgrade core opBNB smart contracts.
With all that has been achieved during and after the testnet, we are also excited to share that over 150 projects are committed to integrating or building on opBNB, with some protocols already live!
While we have taken extensive security measures and undergone multiple audits, we acknowledge that no system is entirely free of bugs. We rely on active community participation to enhance security continually.
Our developer community is at the heart of BNB Chain and opBNB. To support our developer community, we've partnered with leading infrastructure and tooling providers, enhancing the developer experience on the opBNB network.
Furthermore, we've fostered this community through initiatives like the Hackvolution hackathon, which saw the submission of 500+ projects on the opBNB Testnet. Additionally, we conducted 8 AMAs and Twitter spaces with opBNB's core team and contributors to facilitate development.
The Road Ahead
Following the launch of the opBNB Mainnet, our primary focus lies in fortifying the network's resilience and decentralization through a series of pivotal measures:
Proof Enhancement: Ensuring the security and integrity of off-chain transactions is paramount. We are actively researching various approaches within the OP Stack framework to enhance the efficiency of our fraud-proof system. This includes improving the off-chain infrastructure's efficiency, optimizing challenge timing windows, and exploring alternative solutions such as zk-proofs.
Account Abstraction: To enhance network flexibility and reduce complexity, we are working on implementing account abstraction, a feature that streamlines interactions within the network.
Data Availability with BNB Greenfield: We are committed to seamless integration with the BNB Greenfield ecosystem. This integration ensures the availability of data between both networks, facilitating cross-platform interactions and expanding our ecosystem.
Interoperability with BNB Greenfield: Strengthening the interoperability between opBNB and the BNB Greenfield network is a priority. This fosters a collaborative environment for developers, encouraging innovation and cross-network utility.
Decentralized Sequencer: To bolster fairness and security in block production, we are actively developing a decentralized sequencer mechanism. This approach minimizes the risk of centralization and augments network resilience.
Our commitment to these objectives aims to build a robust, decentralized, and high-performance blockchain network with opBNB. We invite you to join us on this exciting journey as we unlock a world of possibilities and work towards bringing the next one billion users to Web3.
Start building on opBNB today!

Follow us to stay updated on everything BNB Chain
Website | Twitter | Telegram | Facebook | dApp Store | YouTube | Discord | LinkedIn | Build N' Build Forum