The BNB Chain Zero2Hero Hackathon, as part of the six-month Builder Series, has successfully wrapped up after four weeks of workshops, building, and submissions. With over 2,600 developers, product managers, UI/UX designers, and other talented individuals participating in the hackathon, a $200k prize pool was shared among the winners.

The competition was intense, and the demo day performances were impressive, resulting in the selection of 19 winning projects across 7 major tracks: Greenfield, NFT, Gamify & Metaverse, SocialFi, Infra, Defi, Innovation, and Cross-chain. The first-place winner of each track will automatically be admitted to the next-stage incubator. In addition, the partners of the hackathon also provided generous bounty task rewards.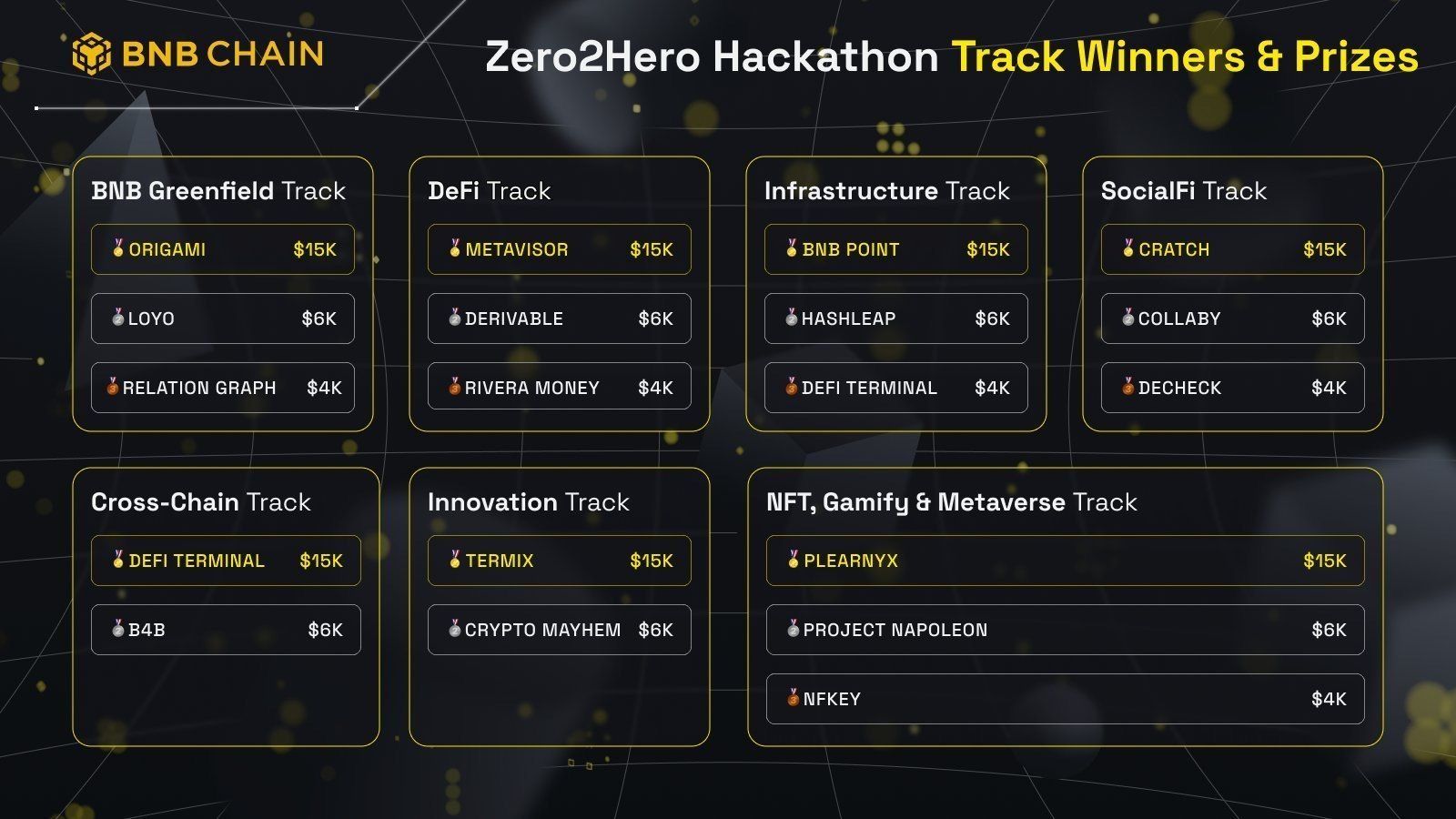 Now, let's take a closer look at the exciting projects that made it to the final round!
Meet Our Track Winners

Greenfield

1st Place: Origami
Origami is an integrated platform for 3D enthusiasts that offers secure Capsule storage for 3D objects, leveraging blockchain for ultimate asset protection. Capsules enable easy sharing and collaboration, fostering creativity. Additionally, Origami hosts a thriving Marketplace for creators to sell their work and collectors to invest in unique digital assets.
2nd Place: LOYO
LOYO is a new generation loyalty program infrastructure that allows businesses to pay 500x less cost to set up the loyalty program infrastructure and get access to the decentralized open data on greenfield with endless insight opportunities. Compared to traditional loyalty programs, LOYO does not require users to provide personal data to receive rewards, which is more beneficial for protecting customers' personal privacy.
3rd Place: Relation Graph

Relation-Graph is a decentralized social graph deployed on BNB Chain inherited from Relation Protocol. It creates a blockchain-native data layer through SBTs and a standard data format, enabling developers to build decentralized social graphs on blockchain. Any developer can create functions and data types in its social graph layer while allowing users to preserve their social relations and contents on the social network regardless of changes to the application layer.
DeFi

1st Place: Metavisor
Metavisor is a liquidity optimization and automation platform for fully on-chain liquidity provisioning and management. It helps automate and optimize liquidity, automatically keeping it in optimal ranges for maximum gains and automatically balancing it when necessary leading to greater capital efficiency and higher returns.
2nd Place: Derivable
Uniswap solves the spot DEX problems, and Derivable solves the perpetual futures DEX problem. Derivable innovates the first AMM for perpetual swaps derived from a novel derivative pricing curve. This allows anyone to create any perpetual pool of any asset with infinite liquidity and with NO risk of liquidation or under-collateralization. Anyone can take sides as either liquidity providers or long-short traders. Similar to Uniswap, Shushiswap or PancakeSwap, Derivable can efficiently run on any layer-1 mainnet (even Ethereum), completely automated, decentralized, and permissionless.
3rd Place: Rivera Money
Rivera Money is a permissionless protocol that enables structured products on Uni v3. Their technology allows users to personalize risks associated with adding liquidity into concentrated liquidity pools. This enables LPs from different risk profiles to easily participate in liquidity provisioning.
Infra

1st Place: BNB Point
BNB Point is a mobile-first wallet, cash-out ramp, and point of sale superapp. It combines TradFi through Rapyd with Web3 to improve Financial Inclusion in Mexico and LATAM. Through Rapyd's APIs, BNB Point can manage users, checkout, swap, and KYC of the app. Swap is the only section of the platform where they coordinate Fiat and Crypto services to exchange cryptocurrencies (BNB) to dollars.
2nd Place: Hashleap
Hashleap is a Web3 payments and financial management DApp. During the hackathon, the team brings it to BNB Chain along with new improvements, including a new upgradable payment transfer smart contract so they can store important information on the chain about the transaction, a new subscription smart contract, and a contract that allows cross-chain transfer using Axelar.
3rd Place: Defi Terminal
Defi Terminal is aimed at bringing institutional risk management to the masses. It manages the DeFi portfolio risk in three ways: monitoring the contract and the UI to make sure there's no smart contract risk, monitoring transactions in and out of pools/DApps, and monitoring flow and price. Their vision is to be a DefiLllama customized for each Defi user.
SocialFi

1st Place: Cratch

Cratch is a decentralized live and video streaming platform in the Metaverse. It allows users to create or watch live streams in a Mobile App, Website Platform, and Metaverse world while rewarding them for every minute they spend on the platform. The team is building this platform to solve many problems in the video sharing and live streaming sectors such as censorship, data collection, and targeted advertisement.
2nd Place: CollabY

CollabY is a decentralized influencer DApp that connects brands with influencers for collaborations on social media platforms like Instagram, TikTok, YouTube, and Twitter. This DApp simplifies the complex process of collaboration between influencers and brands, eliminates uncertainties regarding influencer quality, audience relevance, and smooth collaborations, and ensures fair compensation for influencers.
3rd Place: DeCheck

DeCheck is building a decentralized community for auditing and reviewing crypto projects. It is a DAO for project review and is aimed at pushing the cryptocurrency  towards a more transparent and healthy direction through the combination of token contract code auditing and human review.
1st Place: Plearnyx
Plearnyx is designed to gamify the learning experience and incentivize active participation in order to earn SBT-based reputation and crypto rewards.  As a coding tournament browser game, it will attract, evaluate and onboard new software developers to the BNB or other partner ecosystems. It will also introduce an early version of education mechanics through quizzes and rewards.
2nd Place: The Project Napoléon
The Project Napoléon aims to revolutionize the world of NFTs by combining them with the power of Web3 technology. It develops an enhanced version of ERC-3525 SFT with ERC-2535 Diamond. The platform allows you to check the SFTs and participate in a variety of activities, such as merging and splitting SFTs, DeFi staking. It uses the latest BNB Greenfield to ensure our token related JSON and images file in different containers of Greenfield. The models it created are supposed to be used in bond markets to merge and split bond-related properties to solve some bond issues and more.
3rd Place: NFKey
NFKey team are developing a cutting-edge security lock system by integrating smart locks and web 3 technologies. The initial implementation involves integrating the Nuki smart lock, allowing users to experience enhanced security and convenience. In the future, the team plans to expand their integration to support a wider range of smart locks, providing users with more options.
Innovation

1st Place: Termix
TermiX is a one-stop AI-based Web3 interactive terminal dedicated to making on-chain operations simpler, more efficient, and more secure for all users. It has trained a large language model specifically designed for Web3. It also has an open plugin market similar to OpenAI, allowing any protocol and application to quickly integrated into the ecosystem.
2nd Place: Crypto Mayhem

Crypto Mayhem is aimed at combining the Multiverse. The project solves the problem of the lack of coexistence of different types of players within one ecosystem. In its initial phase Crypto Mayhem  wants to combine two game genres: Grand Strategy and Top-Down Shooter. In the future, it plans to implement existing and produce more games from the studio.
Cross-chain

1st Place: Defi Terminal
Introduced in the infrastructure track above.
2nd Place: B4B
B4B is an on-chain marketplace that connects advertisers with Web3 influencers for paid promotions worldwide. B4B implements a dual-token reputation system to incentivize the activity and long-term engagement of influencers. Influencers earn additional rewards and can withdraw them in USDC, based on their reputation on the B4B platform. During the hackathon, they added cross-chain integration and supported the BNB chain via Axelar.
Bounty Winners

Nearly 50 projects also received bounty task rewards from our hackathon partners. The specific details about these bounty tasks can be found on the Notion page.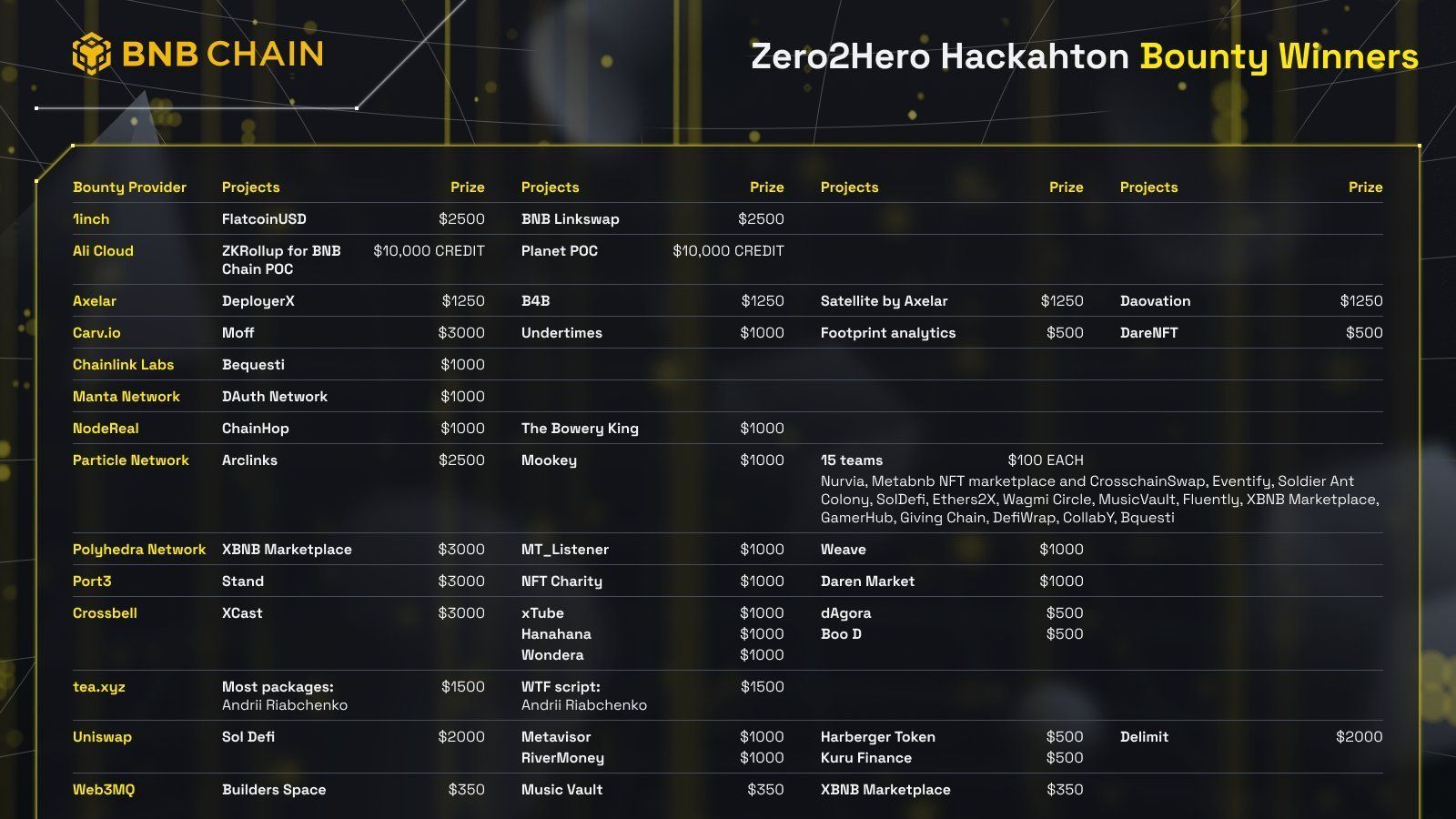 We would like to once again express our gratitude to all the partners who supported the Zero2Hero hackathon. Without your support, this hackathon would not have been successful.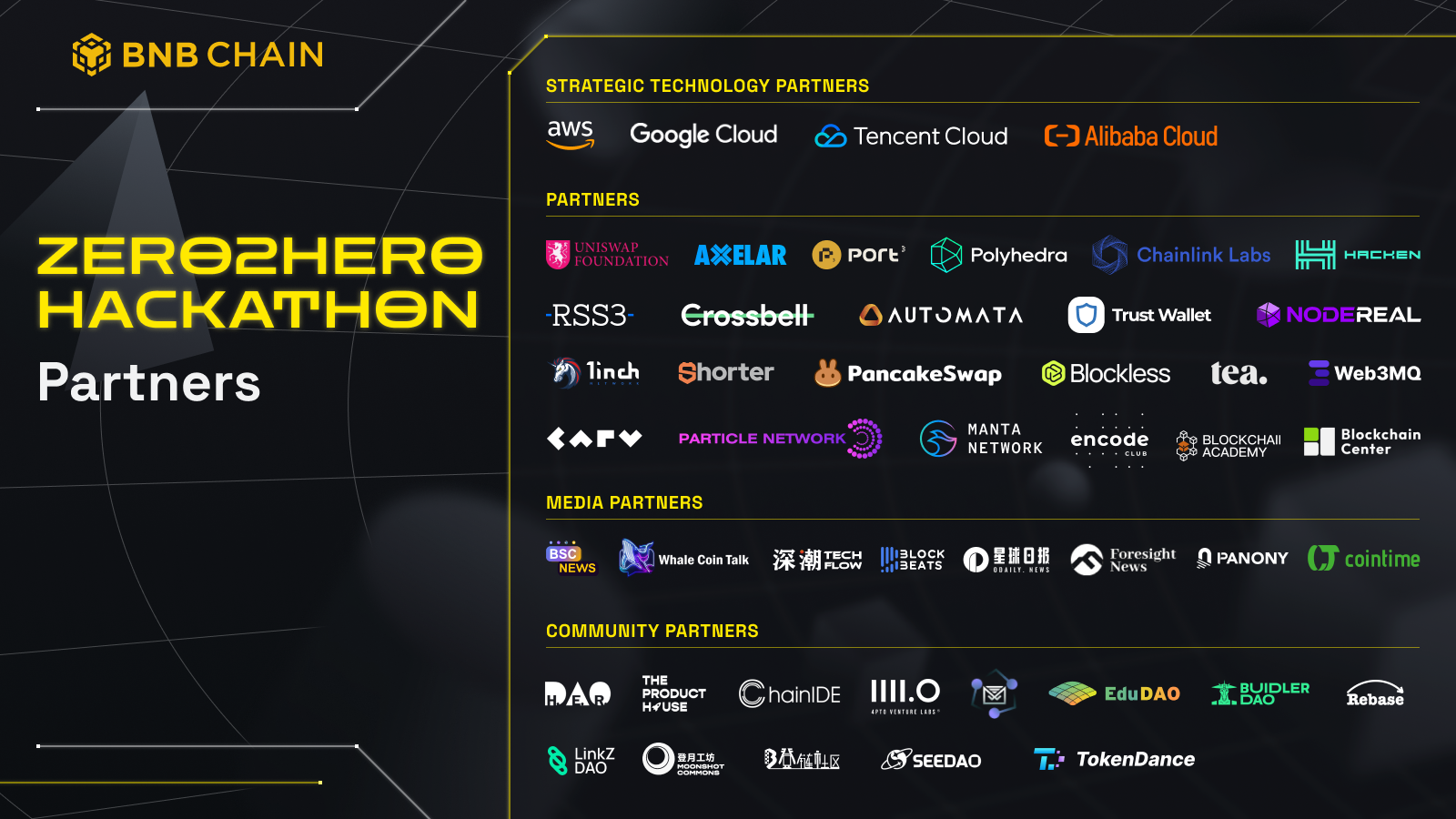 The BNB Chain Zero2Hero Hackathon showcased an impressive array of innovative projects and technologies that are poised to revolutionize the blockchain and cryptocurrency space. We look forward to seeing the continued progress and innovation that will emerge from the blockchain community, and we are excited to be a part of this dynamic and rapidly evolving industry.
Follow us to stay updated on everything BNB Chain!
Website | Twitter | Twitter (Devs) | Telegram | dApp Store | YouTube | Discord | LinkedIn | Build N' Build Forum | Dev Community|