We're back to Project Spotlight interviews, and the first project we interviewed in 2022 is a project we already talked about in the past. We're bringing you another interview with Tranchess,  a yield-enhancing asset tracker with varied risk-return solutions, which is inspired by tranche funds that cater to different classes of users.
Spotlight on Tranchess
IMPORTANT: Please note the following content does not constitute an endorsement or approval of any of the products, services, or views of the project, organization, or individual interviewed in this article.

Matt: It's been quite some time since we last talked to you in July, and we're excited to have you back under the Spotlight again. I guess there's no need to re-introduce Tranchess as you're one of the top projects on BNB Chain currently, but do you have some new products or functions that you'd like to introduce to our readers?
It is an absolute privilege to be back on Spotlight and update Spotlight readers and supporters on the latest developments on the project. I'm sure many of you are already familiar with our recently launched BNB fund, but for the benefit of the newly initiated, the BNB fund is the first significant release by Tranchess at the beginning of 2022. It marks the start of a new phase in our product design: Active token management, sustainable yield returns, and increased collaborations with mature projects in the overall DeFi ecosystem.
We had recently added the CHESS Emission voting feature, so with their veCHESS, our users can now influence how the weekly CHESS emissions would be distributed among all three funds.
Tranchess Swap will soon be equipped with a new set of price feeds from Chainlink, further enhancing its efficiency and stability without sacrificing any security design. We will also have a major product release mid-year. This will also be our main focus for the year's first half. The product release is likely to come with a head-to-toe revamp of our protocol UI as well! Our team is all very excited about this. We've had a lot of in-depth brainstorming sessions and initial prototype remodeling repeatedly, and we intend to add more resources in the following days to speed up the development to deliver a well-crafted product to our users as soon as possible.
Besides all that's been mentioned above, we are continuing our conversations with some of the great DeFi protocols in the market. So stay tuned for some cool collaboration announcements soon!
Matt: Tranchess recently launched the BNB Fund, which generated much interest, reaching 150,000 BNB deposits in days. What led you to become a validator on BSC? Is it solely to launch the BNB Fund, or is there more to it?
Before answering this question, just to give the Spotlight readers a quick update: As of Feb 11, Tranchess' BNB fund has exceeded 230,000 BNB in deposits. We want to thank the BSC community for their continuous trust and support.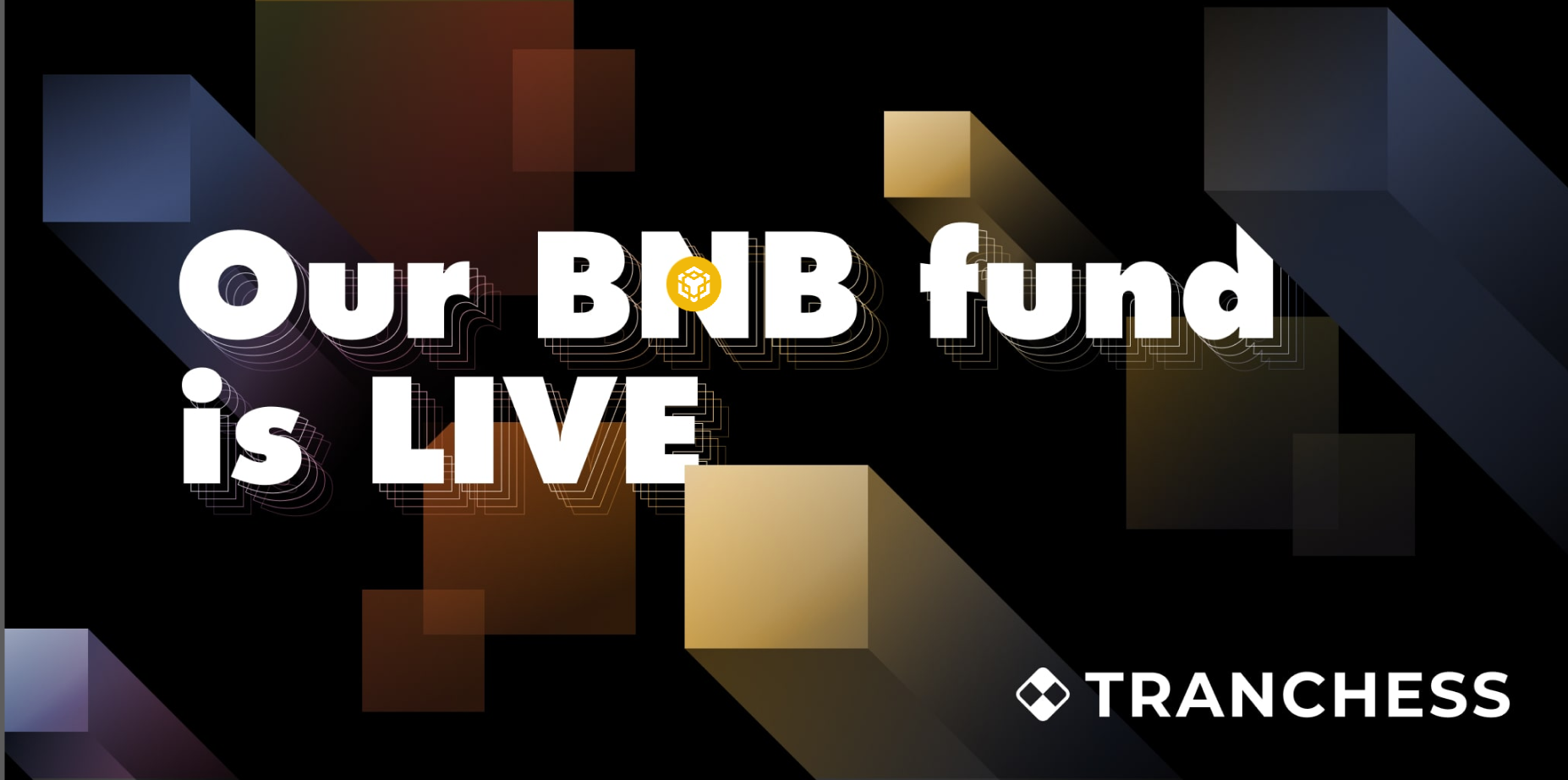 Tranchess is always looking for new ways to enhance our users' yield and put the assets in the funds into better use. We believe the validator fund is a great way to provide our users with a stable and sustainable added yield. The synergistic effect between a BSC validator and Tranchess' BSC fund product design is the prominent rationale for its implementation. So, after we completed all the technical testing and preparation, we quickly launched the BSC fund.
As a DeFi protocol running on the BSC network and benefiting from its infrastructure, we considered becoming a validator a great way to give back and show our support to the BSC community. By staking with Tranchess' BSC fund, our users indirectly become delegators on the BSC network. They can enjoy the delegator rewards from the network without worrying about meeting the stringent requirements of validators. For Tranchess, being a validator on the BSC network was a natural course of action, despite the intense requirements on security, processing speed, data storage, etc. We believe the interest of our users can be best looked after by having our validator node on BSC.
Matt: Why should the community stake their BNB on Tranchess protocol instead of via validators directly? Are there any additional benefits?
This is an interesting question because we would usually be asked the other way around, questions like "what is a validator and what's the benefit." To answer this as well, the validator reward is an "extra layer" of earning on Tranchess protocol.
Staking through Tranchess' BNB fund instead of delegating directly into the Tranchess validator node allows users to enjoy the additional earnings from the Tranchess BNB fund on top of the validator rewards. If you lock your harvested CHESS, the additional earnings would include CHESS mining rewards and weekly rebates. The earning streams would continue to grow in tandem as we introduce new features and products.
So if we take a closer look at the Tranchess BNB fund, we will see that the BNB fund's return is actually the sum of multiple DeFi yielding methods. Tranchess BNB fund = Single asset farming + Boosted earning + Protocol fee rebate + Validator rewards.
In a nutshell, we are always trying to group various kinds of DeFi earning methods together so that users can enjoy all these rewards with just one click instead of having to jump between different dApps.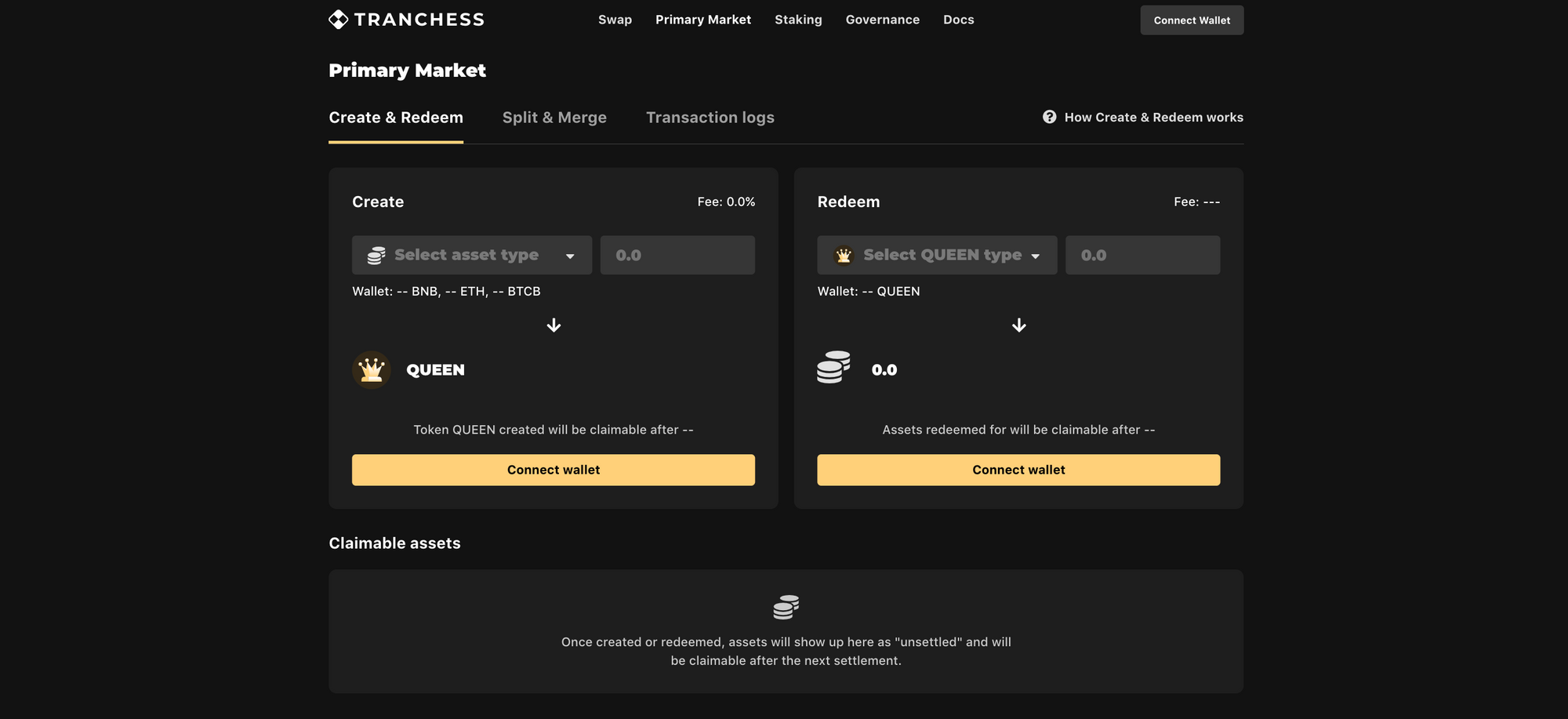 Matt: I noticed on your Twitter that you launched the Tranchess Trooper of the Month program. Can you tell us a bit about it?
Gladly! As you might have noticed, we launched our forum last December as a gradual step towards a full DAO. We saw a lot of interesting discussions in the forum and in-depth thinking and research on the product. Additionally, as our community continues to expand, we noticed amongst our social media groups that more and more enthusiastic "veteran" users were taking the initiative to provide various kinds of help and answer questions for the new users. We think these contributions definitely deserve to be recognized.
Tranchess Trooper of the Month is not a gold medal Tranchess is awarding to the community members, but more like a thank you note to these active members and let them know that we have seen and appreciate their contributions. TtoM is also a good way for us to identify community leaders, and we would definitely want this group of people to take further leads in the advancement of the protocol. Of course, we also hope that this program would encourage more active participation in the discussions in general. We know that many experienced users out there in our community are still silently observing but not speaking much, perhaps because they feel their opinions might not be taken seriously even if they do speak. Tranchess Trooper of the Month is our direct and sincere way of proving to them: Our users' show of leadership, comments, and opinions are always welcomed.

Matt: You're known for being very engaged with your community, and your users can impact how Tranchess is governed. What can you tell us about your DAO and the voting mechanism?
Tranchess launched its TranchessForum last December. We call it "the first stage of DAO" -  it might not include all features in a complete DAO yet, but it would be a great start to engage our community in building towards the ideal protocol together with us.
So far, we have released three proposals with voting concluded over Snapshot. Snapshot voting allows users to sign a transaction and express their preference without paying gas fees. So when voting through the link, the only thing our users need to deliberate on would be the proposal itself. Users' voting powers will be calculated according to their veChess weight at a specific cut-off time, i.e., when the proposal was created. We had received enthusiastic support from our community for the last three proposals released - over 97% of Yes votes for each proposal.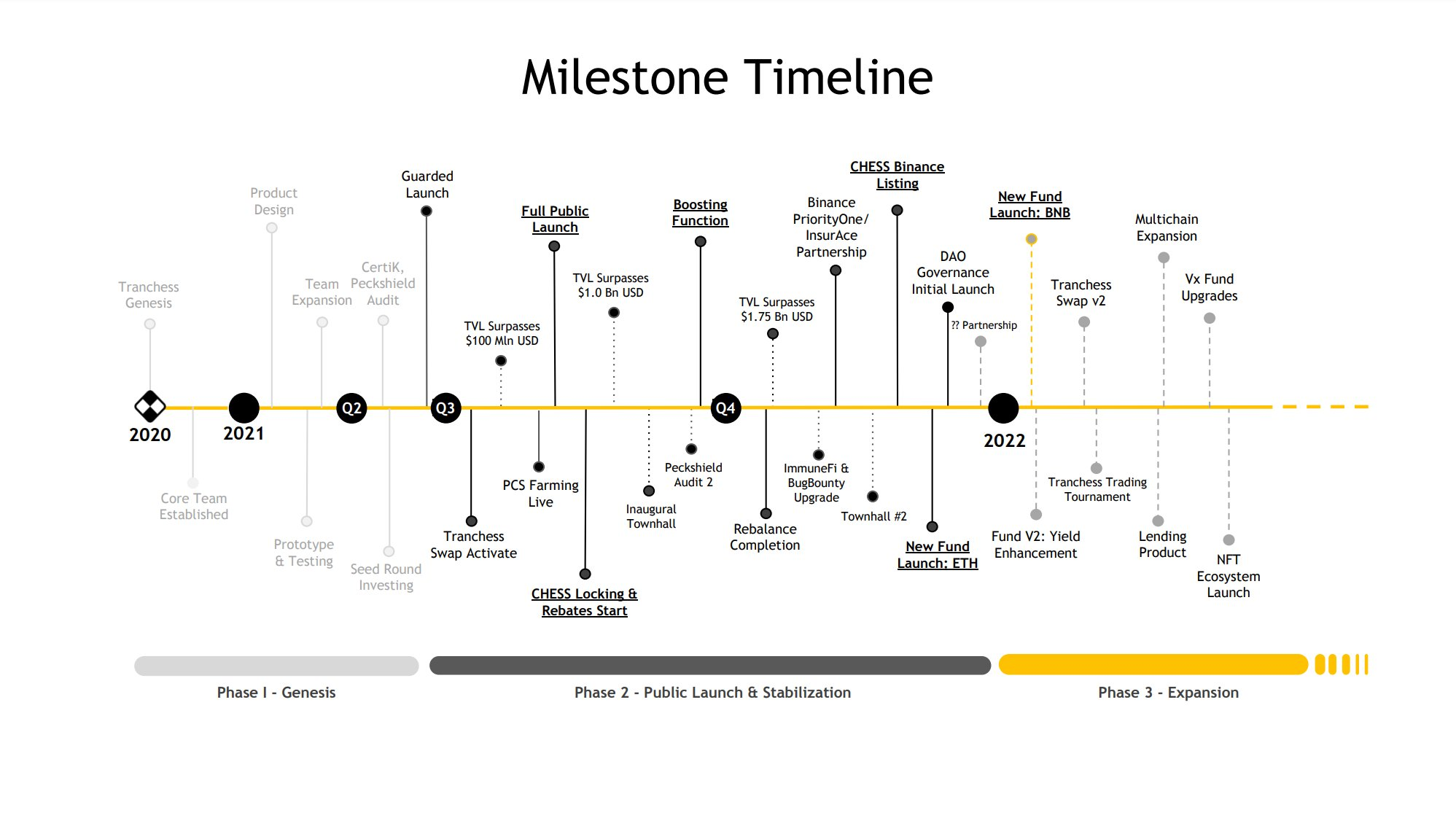 To date, all functionality proposed and passed had been successfully built, released, and updated on Tranchess. Our community would now be able to decide the weekly CHESS emission split among the three funds and support their preferred pool. We will continue our engagement with the community and accord more governance power through new proposals and feature releases. The year 2022 would be an exciting year for Tranchess in terms of new functionalities, new fund structures, DAO improvements, and cross-chain developments - We look forward to the year in eager anticipation.