Since BNB chain launched in September 2020, the ecosystem has grown exponentially, with hundreds of projects and millions of people using this new infrastructure regularly, and it becoming part of their daily lives.
Thanks to the fantastic BNB Chain community, the network processed over 2.34 billion transactions from 130 million active addresses in just 16 months. Some days are worth mentioning, such as November 25, 2021, when BNB Chain reached daily txs ATH of 16.26 million transactions, or October 12, when we announced the $1B Growth Fund.
As BNB Chain grew, it experienced a couple of challenges such as network congestion and node operators facing difficulties managing their full node to sync with the latest block.
Hence in 2022, BNB Chain development teams and community pioneers would like to share the outlook for the future development direction of the BNB blockchain ecosystem and to demonstrate the resilience and persistence of the BNB spirit: for the builders and users and target to onboard 1B users.
From BNB Chain 2021 One-chain to BNB Chain 2022 Multi-chain
The cryptocurrency ecosystem is a highly challenging and ever-evolving environment. It's not easy to plan as nobody knows the next obstacle we will face or the next trend that will take the world by storm. From now on, the BNB Chain developers and validators community will follow the annual cycle of releasing new features and functionality to progressively upgrade the fundamental protocols, including the network scalability and decentralization, and implement critical and most demanded features from the community.  Every year, the BNB Chain community will enjoy a dramatically upgraded version and environment as typical software or hardware lifecycle, e.g., major annual iPhone releases.
You probably know that scalability is a hot topic if you've been in crypto for a while. This applies to all blockchains. As crypto adoption accelerates, it's crucial to build an infrastructure that will enable mass transfers of data and assets. Thus, scalability will be our top priority for the year 2022.
1. Scaling BNB Chain 2021
BNB Chain 2021 (current version) still has potential for improvement. As BNB Chain is the first blockchain to introduce a considerable block size (100m gas ceiling), the blockchain storage and BNB Chain client should introduce a more advanced logic to cover it and allow further expansion.  Currently, to fully sync the BNB Chain blockchain, validators need extensive storage and time. Scaling down the validator and node operator requirements is necessary to enable a seamless BNB Chain experience.
New technologies, like Erigon, are being verified to decrease both time and storage demands. We will work with the validators and infrastructure providers to deploy new solutions to address this issue, such as Parallel EVM, better block process pipeline, improved state caching, fast sync mode, and distributed nodes. These efforts focus on relieving the efforts to run validators or full nodes so that the capacity and stability of BNB Chain can grow to the next level. All of these potential improvements will benefit not only BNB Chain 2021 but also whole EVM compatible blockchains.
Besides the processing power of BNB Chain, some other considerations are reducing operational burden and enhancing decentralization. More validators would join the block production of BNB Chain in 2022.
2.  Expanding the BNB Chain ecosystem to cross-chain and multi-chain
The big lesson learned from BNB Chain 2021 is that "one chain" cannot cover all angles.  At peak time, BNB Chain had more than 2M daily active users (DAU), with a single GameFi reaching up to 1M DAU. This introduced significant challenges for both the network itself and its supporting infrastructure like RPC/API nodes. For dApps with massive user bases, multi-chains and cross-chain should be the solution.  
As the decentralized computing infrastructure, the blockchain will bear the same principle of diversification among generalization and specialization. We must understand blockchain as a computing resource, which is scarce and limited. We cannot expect games and/or social media applications to compete for computing resources with financial ledgers and business transactions, let alone expect all these applications to run on the same network with the exact fees and transaction speeds.
The BNB Chain Core Team strongly believes in partition chains and a multi-chain future as it can sustain the ever-increasing demand for decentralized computing power and storage. This is consistent with many other blockchains in the industry, such as ETH2.0 and multi-chain strategies in Polkadot, Cosmos, and Avalanche.
The cross-shard and cross-chain/multi-chain interoperability will be the key topic of 2022. The BNB Chain validators and developers community is dedicated to fulfilling BNB Chain's vision to operate at the crossroads of a decentralized blockchain future. Specifically, we aim to achieve this by implementing new technologies on BNB Chain and via BNB Chain Application Side Chain (BAS) and BNB Chain Partition Chain (BPC) infrastructure layers.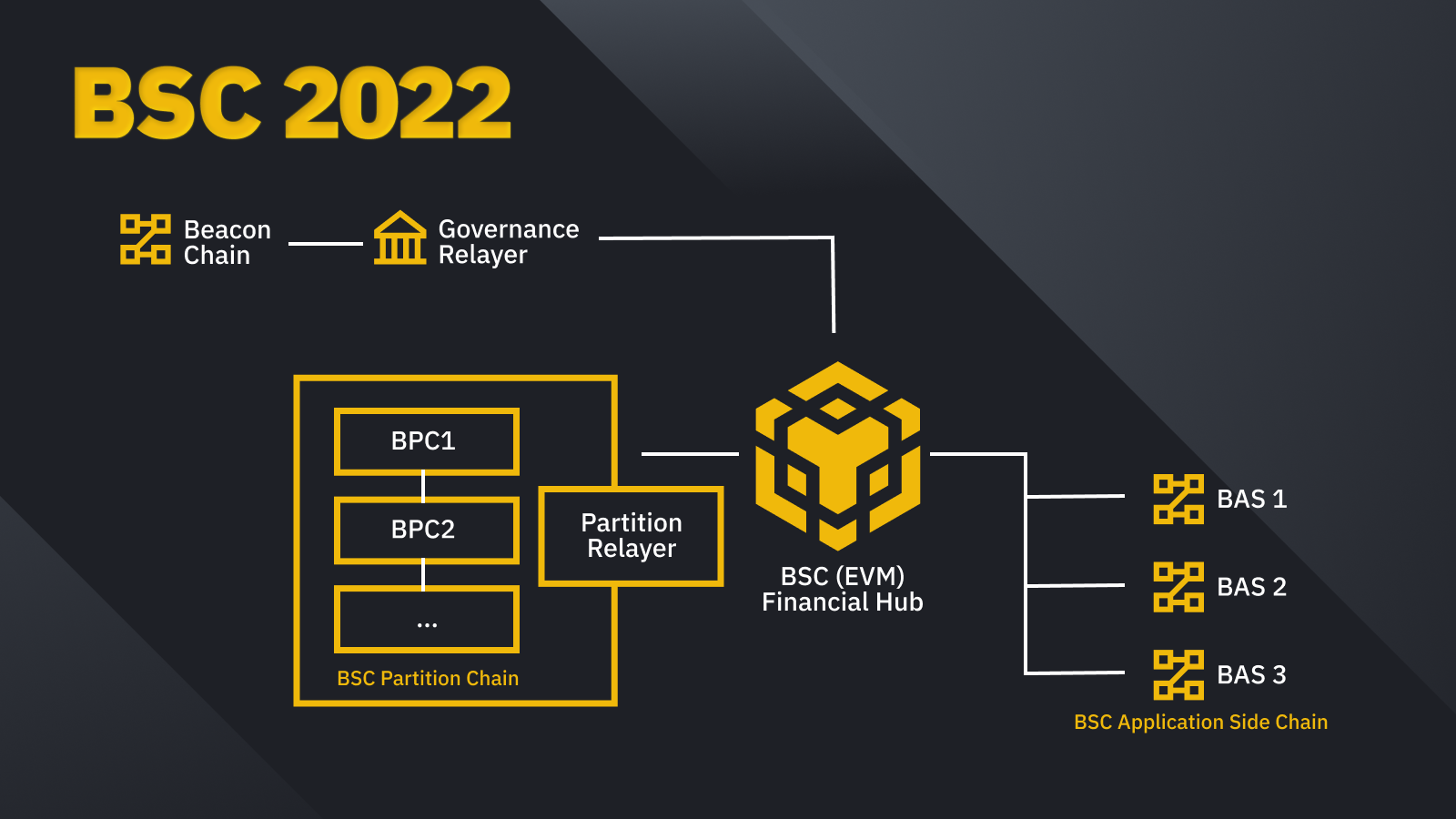 2.1 BNB Chain Application Side Chain (BAS)
The BAS is an infrastructure introduced to help developers and node operators build and run their own blockchain as their internal value system for a massive number of users while still maintaining a close connection with BNB Chain. Any project developer will be able to deploy their own BAS with its unique specifications and validator set. This validator set can run with fewer validators than BNB Chain, depending on the BAS deployer. These validators can be run by the application owners or any community stakeholders, bringing more flexibility and decentralization to BAS. The typical usage of BAS is like the Ronin chain for the Axie Infinity.  However, to minimize the potential risks of the side chain, a new protocol (including built-in asset types and cross-chain) should be introduced to ensure seamless liquidity between BAS and BNB Chain.
2.2 BNB Chain Partition Chain (BPC)
The BPC will introduce another subspace with a new validator set, a new computing engine, and a new ledger. Essentially it works as a "shard" or a "layer 2" to offload part of the data, computing, and transactions from the BNB Chain Mainnet to other smaller parallel blockchains.
BPC will be a PoSA based blockchain like BNB Chain. Anyone can become a validator for one or more particular BPC on BNB Beacon Chain, which will serve as the beacon chain. The validators can call for delegation to be elected into the validator set of BPC. The election could work on the same principles as the validator elections on BNB Chain – validators are elected every 24 hours based on their staking power (staked BNB).
Deployment of BPCs will decrease the number of data stored by dividing it across multiple BPC blockchains.

3. Empowering the BNB Chain community and growing a crypto-native talent pool
BNB Chain is a testimony of what a great ecosystem co-built by the community can look like. We want to continue following the expectations of our community and make the community the Northstar of where BNB Chain should go in the future.
The BNB Chain ecosystem should further continue to focus on research and development of use cases wanted by the community. You can build the best dApp or blockchain in the world, but it's all for nothing if no one's using it.
We want to embrace the community, develop open-source technology, and gather collective intelligence to keep supporting this fantastic community through events, funding, and talent development.  BNB Chain 2022 will be the first topic in the new BNB Chain dev forum (https://www.buildnbuild.dev/), and you are welcome to share your feedback, propose new ideas, and discuss others' ideas here.
We will be hosting multiple in-person and virtual events, hackathons, and workshops in the upcoming weeks and months. We are thrilled to invite you soon to the BNB Chain 2022 Hackathon coming in February and the in-person BNB Chain 2022 Summit in the first half of the year.
---
Follow us to stay updated on everything BNB Chain!
Website | Twitter | Telegram | Youtube | Gitcoin | Discord | Build N' Build Forum