In the Project Spotlight series, we interview interesting projects developing on the Binance Smart Chain (BSC). Previously, we shared interviews with many projects, including Kalata Protocol, Tranchess, Argon, My DeFi Pet, and Alpaca Finance. The latest project we interviewed is bloXroute Labs, blockchain scalability and DeFi infrastructure solution provider that aims to improve the blockchain experience for node operators and DeFi traders.
Spotlight on bloXroute Labs
IMPORTANT: Please note the following content does not constitute an endorsement or approval of any of the products or services of the project, organization, or individual.

Can you introduce us to bloXroute Labs? Can you explain your project to those unfamiliar with it?
bloXroute Labs is a Chicago based blockchain scalability and DeFi infrastructure solution provider backed by VCs including Pantera, Coinbase Venture, Dragonfly. It was founded by a group of computer network experts and tech entrepreneurs in 2018. bloXroute's mission is to provide blockchain node operators better network connectivity and allow DeFi traders to seize arbitrage opportunities more easily by creating a low latency blockchain protocol agnostic relay network (called the BDN) and an enterprise grade DeFi trading toolkit. bloXroute invented the concept of "CDN for blockchains" and the next vision is to become the "Flash Boys" for DeFi.
When was the idea behind bloXroute Labs born, and what led to it?
bloXroute was an idea that originated from CEO Uri Klarman's PhD essay at U.S Northwestern University where he was researching the root cause for blockchains' scalability problem. bloXroute is a compound word made of blocks and route because routing blocks fast across the decentralized network is the scalability bottleneck and one of the major blockchain problems that bloXroute solves.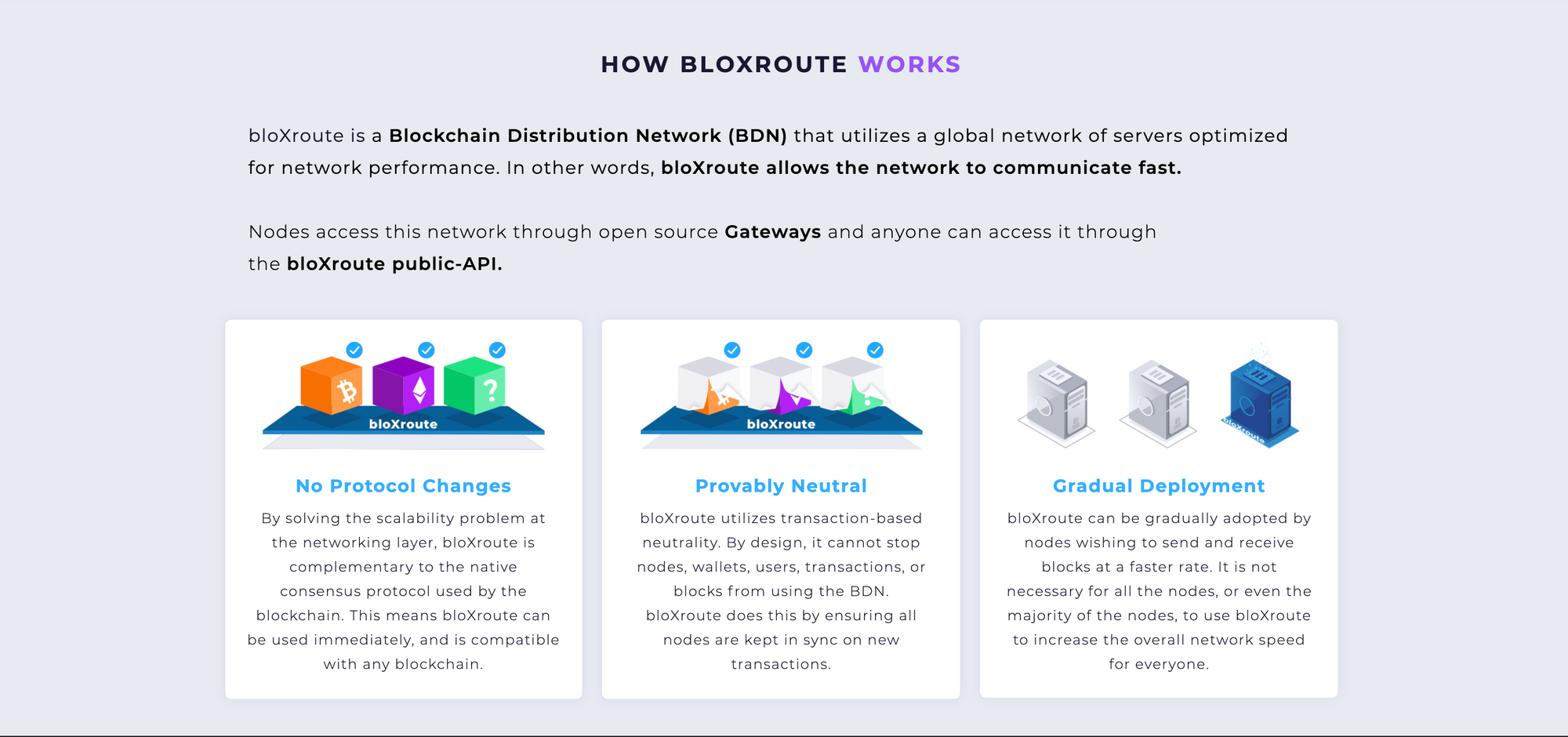 Can you introduce us to the brains behind bloXroute Labs? Tell us something about your team.
bloXroute is co-founded by Dr. Uri Klarman (CEO), Prof. Aleksandar Kuzmanovic (Chief Architect) and Eyal Markovich (COO). They've known each other for a long time before bloXroute. Uri was a researcher at the U.S Northwestern University Networks Group where he focused on blockchains and cryptocurrency networks. Aleks is a professor in the Department of Computer Science at U.S Northwestern University and a co-founder of Google-initiated Measurement Lab. Eyal was the VP of Field Engineering at Silk, a leading global cloud data platform with rich experience in operation, R&D and business development.
Why did you decide to build on Binance Smart Chain? Can you tell us a word or two about you security?
BSC is one of the fastest growing blockchains and is presenting tremendous opportunities for developers and users. bloXroute also has a large user base, a lot of which are expanding or migrating from ETH into BSC. bloXroute sees a huge potential in DeFi trading service (e.g., frontrunning protection/private transactions) on BSC and more importantly a great need in creating a future-proof network infrastructure that can support the rapid ecosystem growth in the coming future.
What are the main advantages of bloXroute Labs compared to competitors?
The biggest benefit that BSC validators and users can get from bloXroute is low network latency. bloXroute is currently the only one that provides BSC block and transaction propagation acceleration service. Validators can keep the nodes in sync more easily, and propogate their blocks faster to other validators and traders, while traders can identify and capture arbitrage opportunities more easily by hearing new blocks and transactions sooner and having their transactions arrive at the mempool in time. bloXroute has already been successfully deployed on ETH and Polygon which have seen significant network speed improvement with the BDN and incremental trading volumes drawn by frontrunning protection service. BSC shall see the same outcome as bloXroute's deployment continues.

Where should I start if I want to use bloXroute Labs?
BSC node validators will be offered a connection to the BDN through gateways hosted by bloXroute, which is part of the subscription package. All they need to do is to connect the bloXroute gateway as a trusted peer to their node. Each node requires a different gateway. Validators will get an exceptional 1-month free trial. Traders and dApps with a node can also connect their nodes to the BDN by a gateway. Users without a node can utilize bloXroute Cloud API services to get instant better network connectivity. Every user needs to begin with creating an account with bloXroute and choosing a plan to subscribe.
More details can be found here.
What does the future hold for bloXroute Labs?
bloXroute is currently working with several validators to improve their network connectivity. bloXroute wants to work more closely with the foundation to bootstrap the adoption with validators and key users through additional incentives. Meanwhile, we're in discussion with the foundation and validators on how to bring bloXroute's marquee DeFi trading service to the BSC community.