In the Project Spotlight series, we interview projects developing on the Binance Smart Chain (BSC). Previously, we shared interviews with ForTube, BurgerSwap, Bounce, Arkane Network, AnySwap, Bitquery, Blink, Tenderly, Defistation, PARSIQ, Injective Protocol, Mirror Protocol, BunnyPark, and MOBOX. Today, we're bringing you an interview with Covalent.
IMPORTANT: Please note the following content does not constitute an endorsement or approval of any of the products or services of the project, organization, or individual.
What is your core business, can you expand on your business strategy to those unfamiliar with your project?
Covalent:Covalent is the only multi-chain API that provides every single point of on-chain data. This includes granular, historical, and blockchain metadata. Blockchain technologies can change the world, but this potential is left unfulfilled if the data is not accessible. Despite the proliferation of digital assets on the blockchain, granular and historical blockchain data is impossible to access by anyone but the most sophisticated and technically talented. Querying blockchains directly is time-consuming and compute-intensive, while additionally refining and manipulating the data adds another layer of complexity.
Our vision is to empower the pioneers of tomorrow by providing the richest and most robust data infrastructure for the entire blockchain ecosystem. And ultimately, bring data transparency and visibility to digital assets.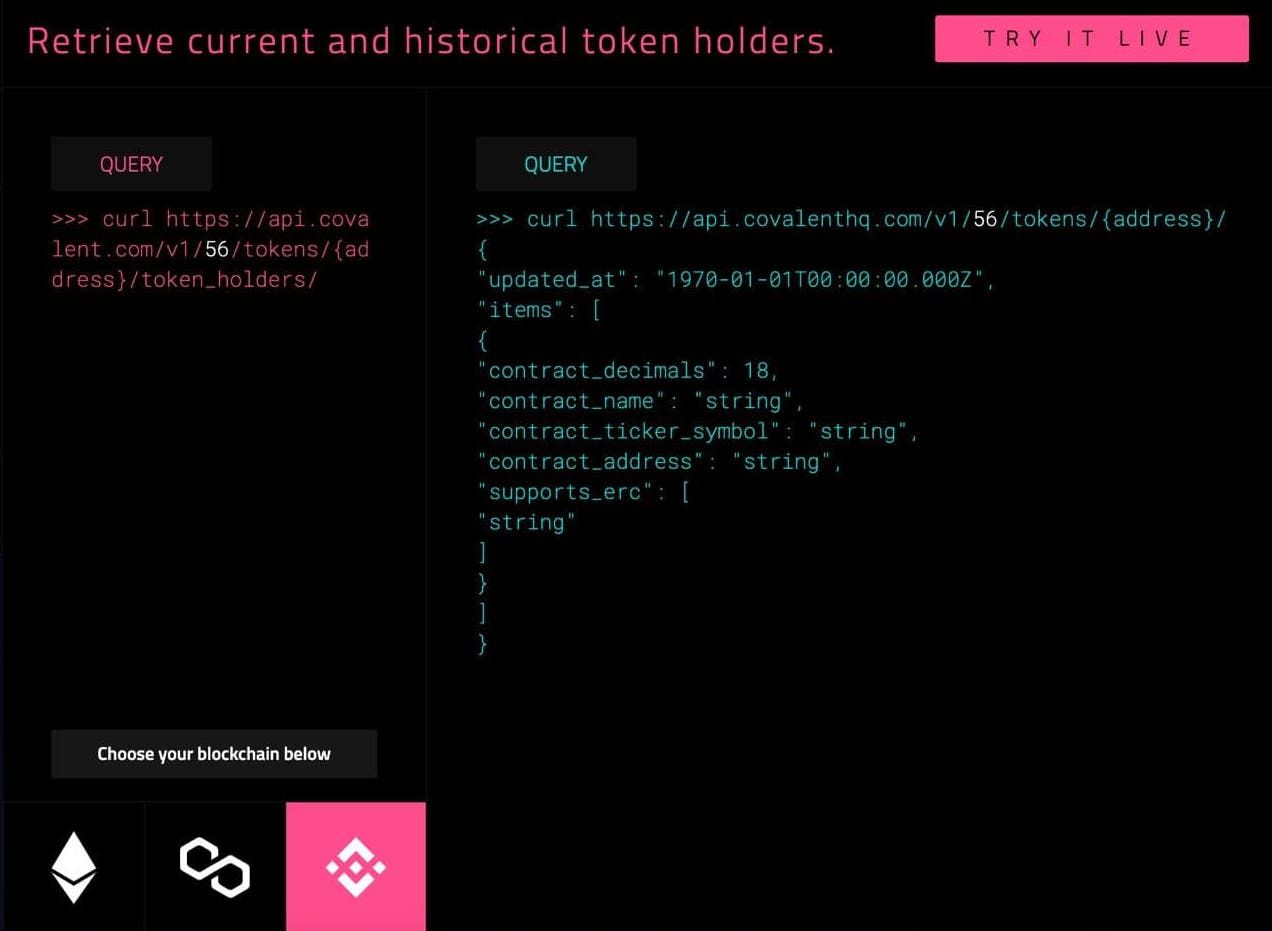 Sample Covalent UI overview
When was the idea behind Covalent born, and what led to it?
Covalent:Covalent's inception was at a hackathon way back in 2017 by both co-founders, Ganesh Swami and Levi Aul. Both had the foresight that transparency is crucial for this industry to reach mass adoption and fully realize the potential of crypto. They saw that blockchain data, while reported to be public, was not. Prior to Covalent, querying blockchains directly was time-consuming and compute-intensive, while additionally refining and manipulating the data only added another layer of complexity.
That clarity and futuristic outlook gave us the strength to continue grinding through the bear market. Today, we have more than 9 blockchains indexed and 200+ projects utilising the Covalent API.
Can you tell us more about your team's background and introduce the core members?
Covalent:Covalent is being built by a team of data scientists, software engineers, database engineers, and crypto natives who are passionate about improving and scaling blockchain technologies. Each team member has multiple years of experience in the crypto industry, and there is no other team that is attacking this problem that has the experience that our team has.
Today, the team's motivation comes from all the great customers we have and to enable them to realize their visions.
What are the main advantages of Covalent for the user, compared to a similar project from a mainstream financial market?
Covalent:Current solutions require developer hours to write additional code to query granular and historical blockchain data. Developers need to be retrained and understand the complex tools (for example, how to write a subgraph), which can take weeks or months to implement. This is expensive to adopt and slows down the mainstream adoption of blockchain technologies. Covalent is committed to creating the simplest solution possible for developers - no extra code needed, just one API call. In fact, it's so simple that you can use the product right from the browser.
Let's say I want to start using Covalent. Where do I start? Where can I find some how-to guides?
Covalent:The Covalent API Reference allows users to try out all our API endpoints directly from the browser with no code: https://www.covalenthq.com/docs/api/
Additionally, we have a comprehensive Knowledge Base with in-depth tutorials, guides and case studies that anyone can start with.
Why did you decide to build on the Binance Smart Chain?
Covalent:BSC has seen monumental growth and traction over the past year. Developers are building scalable DeFi projects while retail are utilising such. With so much activity, there is of course a lot of data moving back and forth. It only made sense to index the BSC. By doing so, developers can improve their products that have a focus on BSC while non-devs, analysts and everyone in between can perform analysis to further understand the activity happening on-chain.
What do you see as the main challenge for the future of Covalent?
Covalent:Currently, our biggest challenge is that we are dealing with scaling issues. Since January, we have had 10Xed the number of API requests and have been scrambling to keep up with demand, which is why we have been heads-down building for the last few months.
One of the major difficulties is explaining just what the problem is. This is especially true for folks that aren't into crypto. Still, even those into crypto, unless they are data geeks, initially don't understand that granular and historical blockchain data is tough to access.
---