In the Project Spotlight series, we interview projects developing on the Binance Smart Chain (BSC). Previously, we shared interviews with many projects, including Tenderly, BunnyPark, MOBOX, Covalent, Cybertino, and Ampleforth. The next project we interviewed is NFTb.
Spotlight on NFTb
IMPORTANT: Please note the following content does not constitute an endorsement or approval of any of the products or services of the project, organization, or individual.
What is your core business? Can you expand on your business strategy to those unfamiliar with your project?
As the world comes to understand the value of NFTs and the sheer amount of creative potential that NFTs can unlock, it's important to build a platform that enables anyone to affordably create and sell their artwork.
Our goal at NFTb is to create an NFT marketplace with the best user experience for anyone, anywhere.NFTb is an NFT Marketplace built for speed and affordability on the Binance Smart Chain and expanding to multi-chain support with subsequent product updates. Users anywhere around the world can join the platform and create, sell and trade digital art at a fraction of the cost of other platforms.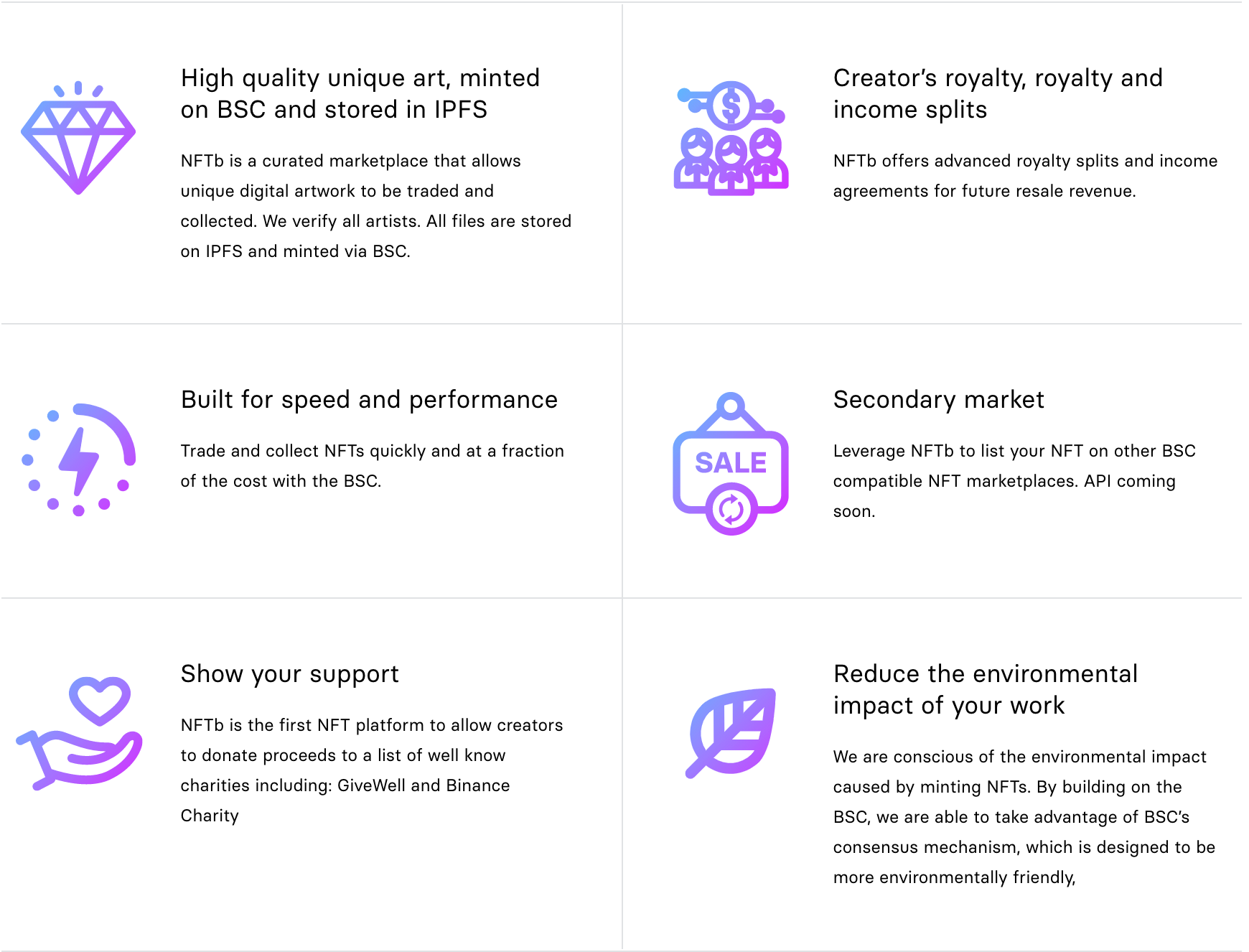 When was the idea behind NFTb born, and what led to it?
The idea for NFTb was born from the frustration of having to pay massive fees to buy, sell and create NFTs. However, in our journey to creating an NFT Marketplace that is accessible to all we discovered there are many more problems that need to be solved.
Some of these problems include:
The lack of support for languages other than English on many NFT Marketplaces. NFTs have been an unprecedented source of income for many artists from developing countries. These artists are underserved with the current NFT marketplaces. We are building multi-language support on NFTb to provide greater access to these artists.
Creators shouldn't be restricted when it comes to who they do business with. The NFTb team is adding cross-chain support to enable artists to reach buyers on whatever platform they are on. This allows NFT creators to experience the best of both worlds; lower fees, less risk, faster transactions, and access to ETH-based NFT marketplaces.
Can you tell us more about your team's background and introduce the core members?
To create a market-leading NFT marketplace, we have assembled a team of innovators, engineers, and creatives from all over the world.
Our core team has strong technical and commercial experience in building blockchain projects and scaling high-growth companies. In addition, we have worked at leading tech companies such as Hewlett Packard and Apple.
What are the main advantages of NFTb for the user, compared to a similar project from a mainstream financial or DeFi market?
There is currently no premium curated NFT marketplace in the BSC space. Most of the current ones are open access meaning they are quickly filled with spam, stolen works, and extremely low-quality work. You can take a glance to see other NFT marketplace platforms on BSC to see the difference in quality between NFTb and other platforms.
We want to set up our platform so that it feels like a curated experience for all visitors of our website. We hope this gives new and aspiring artists comfort knowing that their high-quality work will be among many other great pieces.
Our focus is on building a platform that is user-friendly and accessible to all. As such, we are working with Binance very closely to grow the adoption of NFTs on BSC. Users will be able to directly list on Binance via our API.
We want to enable artists to reach buyers on whatever platform they are on. We are working on including Binance Swap in a future release of our platform, which will allow NFTs minted on NFTb to be listed on ETH marketplaces (or whatever future chain NFTs can be found on in the future). This allows NFT creators to experience the best of both worlds; lower fees, less risk, faster transactions, and access to ETH-based NFT marketplaces.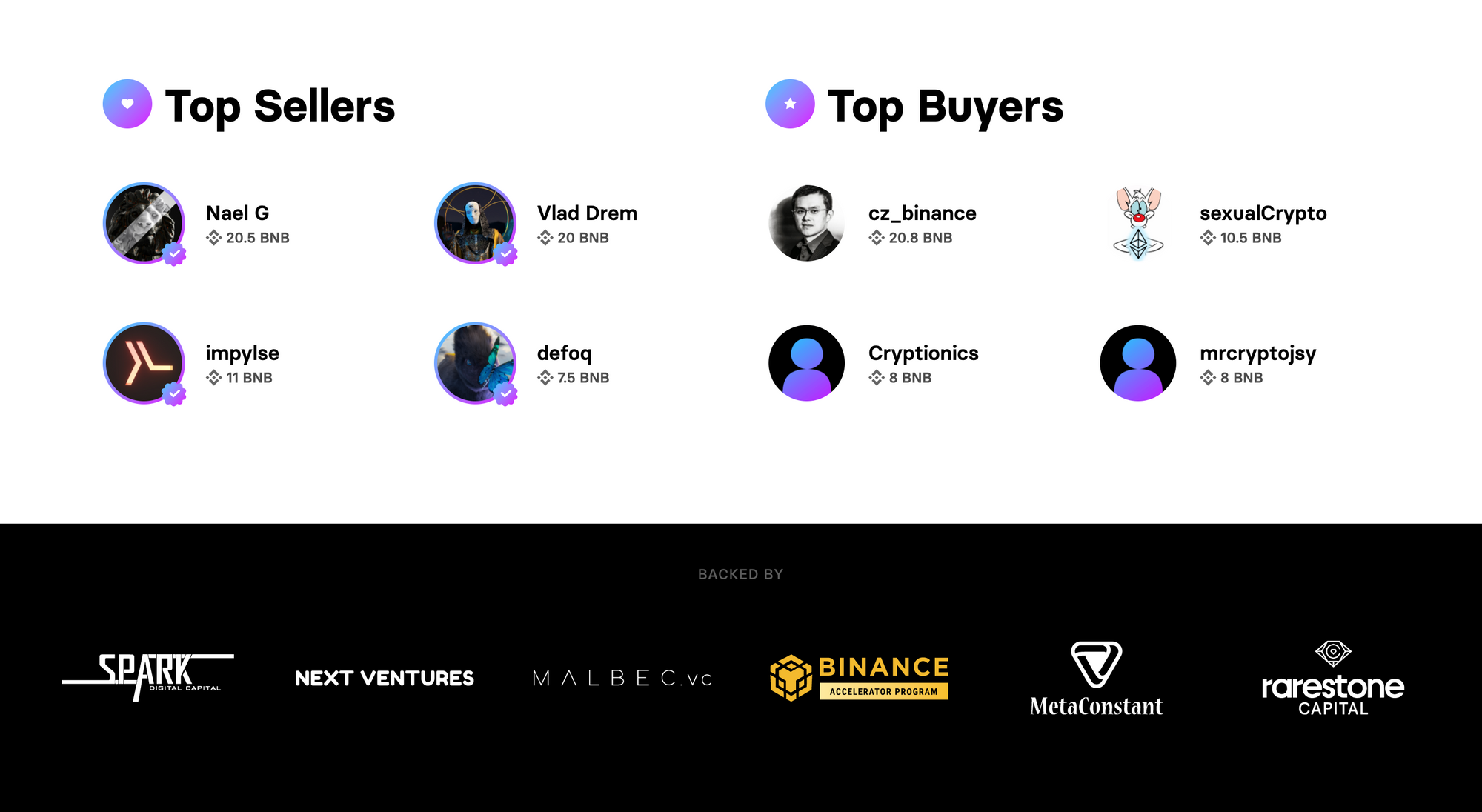 Let's say I want to use NFTb. Where do I start? Where can I find some how-to guides?
We have put together a comprehensive guide on 'How to Get Started as a Creator on NFTb'. You will find other helpful information on how to use our platform on our help center.
And that's not all - we also have a blog that is dedicated to providing creators with educational content to help them build their personal brand, create anticipation for their NFTs, and much more!
Why did you decide to build on Binance Smart Chain?
We believe that lower fees will empower many amazing artists and creators, by helping them showcase their work and receive the visibility and value that they deserve without having to pay expensive transaction fees.
Many NFT marketplaces are built on Ethereum. With ETH2 perpetually about to be released, and many L2 solutions yet untested, it's unclear that congestion on ETH is holding back the potential for NFTs to be adopted.
With BSC, lower fees are incurred and transactions are processed much faster than ETH. Minting an NFT during peak ETH network congestion may cost an artist $150 USD (excluding sale transactions) while minting an NFT on BSC usually costs <$1.
We will soon help artists understand how much they will save on gas fees by choosing to mint on NFTb vs. ETH-based marketplaces via a gas calculator.
We hope the BSC community fosters a culture of collaboration among NFT projects. It is important for projects to collaborate whenever possible so we can get the best minds together working on building features that matter.
What do you see as the main challenge for the future of NFTs?
Adoption is a huge challenge for NFTs. There is still a huge learning curve for users to own or create an NFT. From understanding how to manage a cryptocurrency wallet to adding a whole new list of words into your vocabulary such as "minting" or "gas fees", many people are discouraged by having to take a deep dive into the unfamiliar.
As an NFT marketplace, our focus is to ensure that we are continually adding value to both our creators and collectors by growing users on both sides of the market (creators and collectors). We believe that we are very early when it comes to the adoption of NFTs and that there are still plenty of opportunities for artists to create their first NFT and collectors to purchase their first NFT.
At NFTb we have onboarded 100s of artists and creators. However, we are finding that many artists need a lot of guidance before they are comfortable with creating their first NFT. To bridge the gap in knowledge and scale the onboarding process we are investing heavily in building an educational program for creators to get started with NFTs.
Where do you see NFTs and BSC in five years?
NFTs are still relatively new and we are seeing novel use cases for it seemingly on a daily basis. We strongly believe NFTs will flourish and grow exponentially on BSC in the next 5 years.
High costs remain a huge barrier of entry for creators and artists to buy and sell NFTs. We expect that BSC will become a market leader in this sector by introducing new solutions that are unavailable or uneconomical on blockchains with high gas fees such as Ethereum.