What an exciting first month for the MVBIII! Binance Smart Chain became the most-used blockchain in the world, MVBII winners MOBOX and Alpaca got listed on Binance.com, and NFTs and GameFi are taking the world by the storm.
MVBIII so far…
150+ first-time participant projects in MVB III across 6 categories.
Almost 200 projects who participated in the previous MVB editions have joined MVBIII.
Participating projects grew on average by 70% across the different metrics (users, transactions, volume, etc.).
BUIDL Program Rewards reimbursed $1.5 million in August; 3,656 BNB.

MVB Monthly Stars: August 2021
Monthly Star is a new concept introduced in MVBIII that will help us better identify consistently best-performing projects and help them take their dApp to a new level.
We will announce Monthly Stars every month from August to October (retrospectively, i.e., the award for August is awarded in September). BSC Monthly Stars will be announced on the second week of each month, with Monthly Stars for August announced today, September 13.
Apart from performing among the best BSC projects, the Monthly Stars competitors also had to meet a set of requirements.
Requirements:
The project must be registered for the BUIDL Rewards Program
The project must be among the best performing projects on BSC according to multiple criteria around product & operations, tokenomics,  security status, tech&dev capability, and performance (active users, transactions, volume, etc.)
The projects competing in the Monthly Stars are encouraged to complete at least one full smart contract audit or host a Bug Bounty Program (self-hosted or with Immunefi)
The project must cater to an active and strong community, including but not limited to Twitter, Telegram, Medium, etc.
Meet the winners!
In August, we identified 17 projects that deserve to be recognized for their innovation, activity, user base, and performance. Each month we'll announce up to 20 Monthly Stars, reaching a maximum of up to 60 Monthly Stars in the MVBIII. At the end of the MVBIII, we will announce the final top 10 winning projects picked from the Monthly Stars.
Please note that only projects that won Monthly Star are eligible to reach the final top 10 of MVBIII.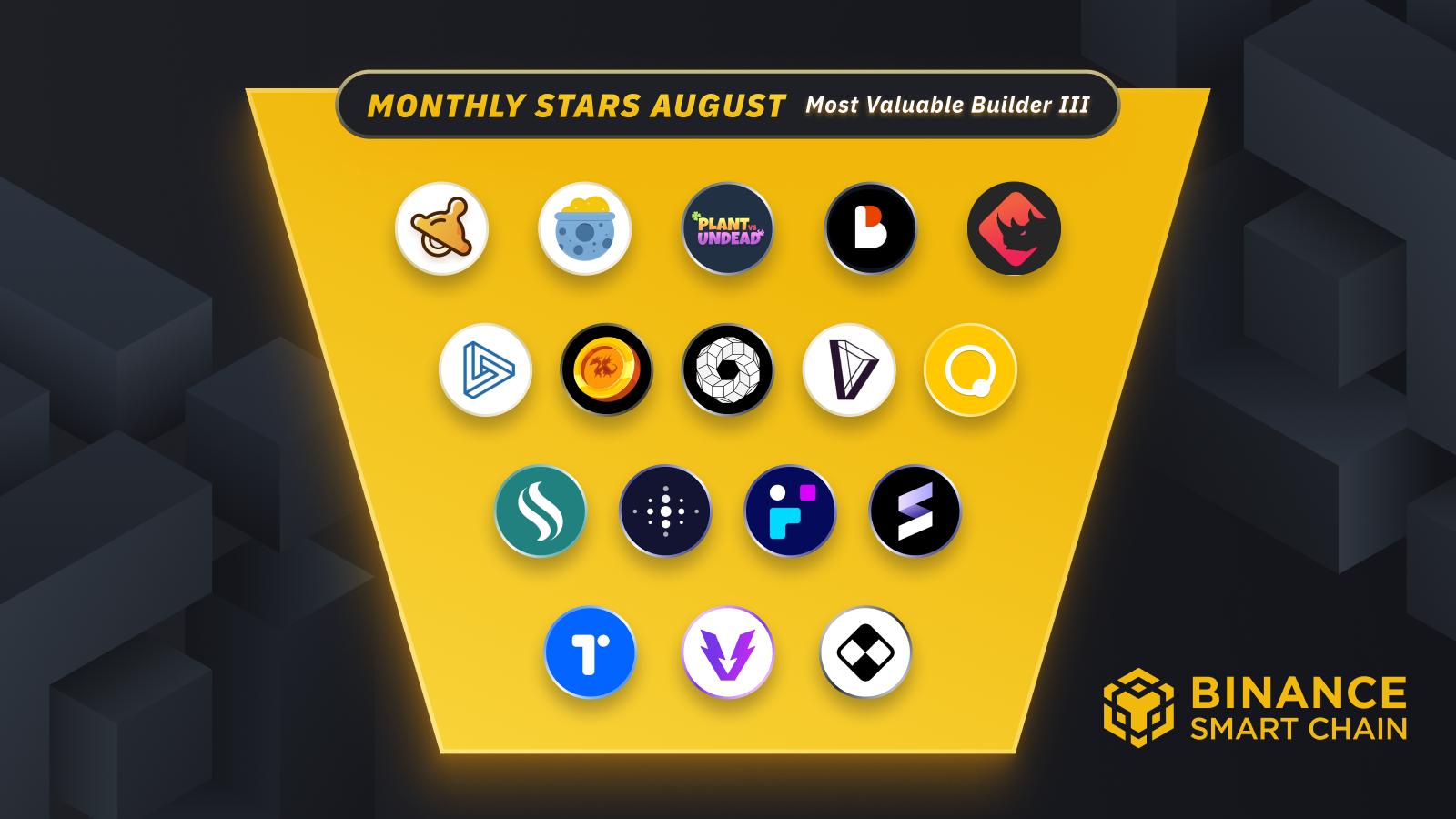 Monthly Stars August
By category; alphabetical order.
DeFi
Projects building and innovating in the decentralized finance sphere.
Games
Projects creating new blockchain games and merging the worlds of DeFi and gaming.
Infrastructure and service providers that make interacting with BSC seamless, faster, and increase its usability. This category includes APIs, tooling, wallets, and more.
Venly - Previously known as Arkane Network, Venly offers Wallet & NFT products that seamlessly integrate with blockchain projects.
Biconomy - Biconomy is a next-gen multichain relayer protocol building Plug & Play APIs to simplify the web3 experience.
Hot Cross - Hot Cross aims to be a toolbox for EVM networks by building a multi-chain tool suite created for both blockchain teams and their communities
Suterusu - Suterusu and their product Suter Shield provide a trustless and universal layer-2 solution to protect your transaction privacy.
Torus - Torus with its wallet product make digital ownership and identity human-centric and accessible to everyone
NFT
Platforms and products focused on NFT and Metaverse.
Dvision Network - The new reality on the blockchain. Dvision Network brings you a metaverse experience where you can create, trade, and play.
Project Galaxy - Project Galaxy is building a permissionless infrastructure that powers on-chain credentials with plug-and-play NFT modules.
Each Monthly Star winner in this phase will receive:
BSC community support (social media and marketing)
Access to MVB Incubation Program and mentorship
Discounts on Smart Contract Audits from our partners
NFT badge of recognition with unique benefits
Changes to BUIDL Rewards Program, $1.5 million distributed
To better serve the community and incentivize BUIDLers on Binance Smart Chain, we're making changes to the BUIDL Rewards program.
From September 30, the BUIDL program will be merged with the MVB program to automatically reimburse 3% of all gas fees spent by the projects participating in the MVB. Projects that register for MVBIII or any future edition of MVB will be required to register for the BUIDL fees reimbursement.
In August, eligible projects split a total of 3,656 BNB, equal to $1.5 million, reimbursed for their spent gas fees.